> [Archived] Events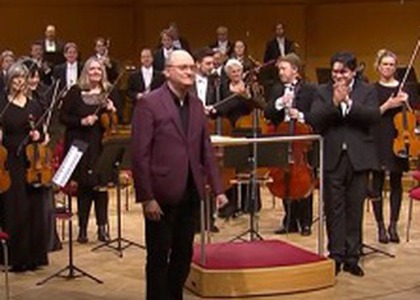 Cristian Măcelaru and Dan Dediu at '5 Star Concerts'
Monday, 23 May 2022 , ora 9.08

Not until three months ago, on February 18th, 2022, a curious audience came to the concert of the Cologne Broadcasting Orchestra for a meeting with Romanian music, namely with an absolute novelty. It was an ensemble order for the "Miniatures of Time" series: 12 composers, 12 first auditions to reflect contemporary political or health events. Romania's representative in this group of authors is Dan Dediu, with his work Formido. He chose a more general approach to the current ambiance, as he himself says: "In Latin, Formido describes a feeling of fear or dread. when we are threatened by something we do not understand. "
The Cologne Broadcasting Orchestra and conductor Cristian Măcelaru were later joined by violinist Daniel Hope, who, following in the footsteps of an illustrious predecessor - Joseph Joachim - and thus joining an illustrious gallery of personalities - Otto von Bismarck, Johannes Brahms, Giuseppe Verdi, is president Beethoven House in Bonn. In Cologne, Daniel Hope chose music from England: difficult, grandiose and expansive, imagined by Sir Edward Elgar in his Concerto in D minor for violin.
The top German orchestra, the Cologne Broadcasting Orchestra, welcomed him in 2019 as the principal conductor of a Romanian artist with a truly international career: the United States, the Netherlands, France, the United Kingdom, Denmark, all applauded him, at the desk of some excellent ensembles, Cristian Măcelaru. You know him, also thanks to the series "Blue Room", in which, on the frequencies of Radio Romania Music, on our Facebook page and on our YouTube channel, he talks about works and composers.
"Art helps us to transmit the deepest emotions", says Cristian Măcelaru; "I speak through music," said Johannes Brahms. The two mottos reunited at the end of the concert on February 18th, 2022, with the Romanian artist conducting the 3rd Symphony in F major by the imposing German author.
Maria Bojin
Translated by Medeea Alexandra Stan,
University of Bucharest, Faculty of Foreign Languages and Literatures, MTTLC, year I
Corrected by Silvia Petrescu