> [Archived] Events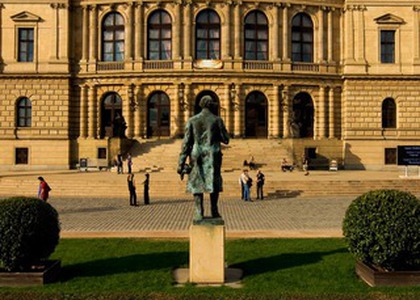 An Ascension Day concert as part of the "Prague Spring" International Festival-2022
Friday, 27 May 2022 , ora 14.49

On Wednesday, the 25th of May 2022, at 21 o'clock on the European Stage, you'll have the opportunity to listen to the concert by the "Vox Luminis"ensemble and the Freiburg Baroque Orchestra live from the Rudolfinum "Dvorak" Hall in Prague. It will be conducted by Lionel Meunier.
The program includes pieces from the grand maestros of theBaroque Era. We will listen to two cantatas by Johann Sebastian Bach. The First of them, Cantata BMV 128 "Auf Christi Himmerfahrt allein" (For Christ's Ascension) was composed in 1725 when the author was a cantor at the Saint Thomas Church in Leipzig. His presence led to a real reformation of the sacred music of his time. The second one, Cantata BWV 11 "Lobet Gott in seinen Reichen" (Praise God in His Kingdom), composed 10 years later, has a festive character in order to emphasise the greatness and the importance of the Feast of the Ascension of Jesus Christ. Here Bach used a generous orchestration that included wind and percussion instruments.
The program also includes a cantata of another German composer, contemporary with Bach, Georg Philipp Telemann. He composed over 1.400 cantatas for every Sunday of the church year. Telemann's cantatas are also inovative for the composition of the 18th century and excelt hrough magnificent pieces and orchestral richness. From the creation of Georg Philipp Telemann we will listen to theCantata"Ich fahre auf zu meinem Vater" ( To my Father I go ).
Sonata no 12 in C major " The Ascension" from the Mystery (Rosary Sonatas) series by Heinrich Franz von Biber will complete this concert with sacred music dedicated to the Ascension Day. The soloist for this piece will be the Swiss violinist Leila Schayegh. She teaches baroque violin at Schola Cantorum Basiliensis since 2010, as a sucessor of Chiara Banchini.
Laura Ana Mânzat
Translated by Ioana Busuioc,
University of Bucharest, Faculty of Foreign Languages and Literatures, MTTLC, year I
Corrected by Silvia Petrescu