> [Archived] Events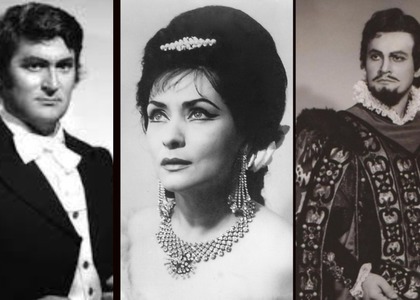 Recordings with Romanian artists at the Opera in reference interpretations
Wednesday, 12 October 2022 , ora 10.33

This summer I received a very beautiful gift: seven audio albums with some of the most famous works performed by Romanian artists. Therefore, I figured that if I enjoyed (re)discovering them so much, the experience should be shared with you, dear listeners of the Opera in reference interpretations. I've known for a long time now that the opera-loving public is a completely special one, with a burning passion for this art form, constant, faithful, and, at the same time, highly curious, and, last but not least, pretentious. I wanted to mention that this series is made possible thanks to the generous donation, in order to make it clear from the very beginning that this is not a personal selection.
The performances I suggest we listen to every Sunday at 9p.m. from the 2nd of October to the 13th of November 2022 will, I believe, delight even the most selective of you. Beyond this, I imagine that another effect these shows might have is nostalgia, as some of you had the privilege of listening to and seeing these lyrical artists in live performances. I'm sure you have favorite voices and personalities.
The eight operas I invite you to listen to together are: Rigoletto, Traviata and The Troubadour by Giuseppe Verdi, La bohème, Turandot and Madama Butterfly by Giacomo Puccini and in the last broadcast of this series - Cavalleria rusticana by Pietro Mascagni and Pagliacci by Ruggero Leoncavallo.
We have the chance to relisten to some of the most beautiful voices of the last century. Many of these artists have enjoyed both national and international success. It is no coincidence that I have chosen to attach here the photos with three of them: tenor Ion Buzea, soprano Virginia Zeani and baritone Nicolae Herlea. We will hear these three singers in the lead roles from Verdi's Traviata on Sunday, October the 9th 2022.
Of course, many talented artists from the so-called golden age of the Romanian lyrical scene are artists who have become famous worldwide. I would like to mention here the soprano Eugenia Moldoveanu, whom we will hear in one of her most remarkable roles - Madama Butterfly, as well as in the music of Mimi from Puccini's La bohème. Her partner in La bohème is tenor Ludovic Spiess, which is another famous name. We also hear the outstanding voices of sopranos Magda Ianculescu, Elvira Cîrje, mezzo-sopranos Dorothea Palade, Valeria Savu, baritone David Ohanesian, basses Dan Zancu, Constantin Gabor, tenor Vasile Moldoveanu.
Most of the productions are carried out in the company of the Bucharest National Opera's Orchestra and of the exceptional choir of the institution, trained by the late master Stelian Olariu. Among the orchestra conductors who have been at the conductor's desk are Jean Bobescu, Constantin Petrovici and Paul Popescu.
Thus, I invite you to join me in listening to some of the most prestigious Romanian voices at the Opera in reference interpretations, every Sunday until the 13th of November, from 9 p.m.
Irina Cristina Vasilescu
Translated by Raluca Ioana Crucerescu,
University of Bucharest, Faculty of Foreign Languages and Literatures, MTTLC, year I
Corrected by Silvia Petrescu