> [Archived] Events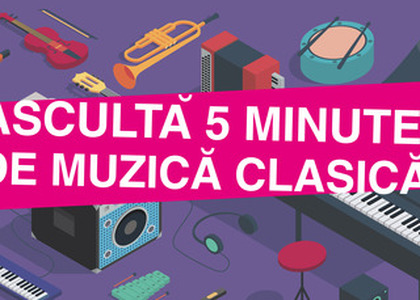 Starting October 5th, listen to 5 minutes of classical music in unconventional places
Wednesday, 12 October 2022 , ora 10.36

Hypermarkets, malls, libraries, museums, company headquarters: the unconventional places where the greatest music of all time will be heard every day of October, as part of the "Listen to 5 minutes of classical music" project, launched by Radio România Muzical in 2010 and taking place each year since then, without fail.
Famous musical pieces thus become part of the soundscape put forth by the project's partners; all of them arranged by prestigious Romanian musicians, and most of them recently recorded during season concerts by the National Radio Orchestra and the Orchestra of the Romanian Radio Broadcasting.
The project partners are all important names in Romanian retail and business: Carrefour Romania, Cora Romania, The Bran Castle, Mobexpert, Dedeman, CRH Romania, The Cărturești Libraries, The Humanitas Libraries, Iulius Mall in Iași, Timișoara, Cluj and Suceava, Palas Mall Iași, ParkLake Shopping Center and Băneasa Shopping City in Bucharest, PwC Romania, Avia Motors, Timpuri Noi Square, Business Garden Bucharest. With support from Mood Media.
The "Listen to 5 minutes of classical music" project has an uninterrupted history of 12 years in unconventional places all over the country. The first installment took place in 2010 and, since then, every day during the months of March and October, the public was given the chance to discover (or rediscover) the magna opera of classical music in unexpected places; all positively received both by clients and the partners' employees alike. In this same project concerts lead by Romanian musicians have also been performed and well received by the general public.
*************************************************
Starting September 19th, "Listen to 5 minutes of classical music" returns to schools all over Romania.
Since 2014, "Listen to 5 minutes of classical music" is a national program in Romanian schols, according to a protocol signed by Radio România and the Ministry of Education. During the previous school year, 2021-2022, 250.000 students from Bucharest and 34 other counties have participated in this project.
The principle is simple: the students are presented each week with two musical pieces accompanied by information about the composers and musicians. The pieces can be accessed by the teachers via the county coordinators designated by the specialised inspectors of each county, or online, via the project's website www.romania-muzical.ro/5minute, where children can participate in a competition regarding the information given to them each week.
For the 2022-2023 school year, the weekly musical pieces offer a chronological foray into the history of cultured music, from Ars nova to modern composers, so that every child that participates may know the great musical styles and the most important composers.
Through this project, Radio România Muzical offers support to music teachers and to all interested in musical education in the general education system which, as opposed to the vocational one, must offer elements of general musical knowledge, which are not tied to childrens' natural talents or skills: anyone can listen to music and should know some main elements of music history, an important part of human history.
Over the years, the project has been well received by both children and teachers alike.
Here are some opinions from the students: "I was happy I finally found a place to share my desire to listen to classical music. Because 5 minutes of classical music are essential to everyone, I'd like this project to go on for many years. I figured everyone needs classical music, because it makes you understand yourself better as well as understand others without being egotisical."
"I really like this campaign because each child that listens, if they want to listen, will discover more of themselves."
"The project is exceptional! 5 minutes of classical music is a very short time, but it can also be very very good introduction. This campaign should be on all the time, because you get to listen to a little bit of music. It's not a lot, but it can get you started on listening more and more classical music."
"These 5 minutes we get in school are very helpful to me, since nowadays teens mostly listen to rock or commerical music. I think it's necessary to have general knowledge of the world's greatest composers. And yes, it does help with my creative process. I really enjoy writing poetry and I sometimes listen to classical music before writing."
"Listen to 5 minutes of classical music" has another side to it, for the general public: that of listening to music in unconventional places. The main hypermarkets, malls and hardware store in Romania have joined this campaign and they schedule, every day of March and October, a piece from the cultural repertoire, provided by Radio România Muzical. Starting October 1st, classical music will be played in the partnering places, during rush hours.
"Listen to 5 minutes of classical music" is a project launched and organised by Cristina Comandașu, manager at Radio România Muzical.

Translated by Bianca-Maria Ciucașu,
University of Bucharest, Faculty of Foreign Languages and Literatures, MTTLC, year II
Corrected by Silvia Petrescu