> [Archived] Events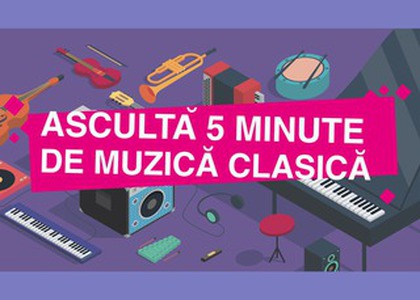 The Project called 'Listen to five minutes of classical music' delights visitors at Palas Mall, Iași
Tuesday, 25 October 2022 , ora 12.22

Beginning with the first edition that took place in October 2010, during March and October to be exact, every day, the public had the chance to discover or re-descover the great opera of classical music, in unexpected places such as hypermarkets, malls, bookstores, museum or offices.
Palas Mall, belonging to the Iulius Mall Group which also owns the shopping center from Suceava, Cluj Napoca and Timișoara, is this year among the partners of the 'Listen to five minutes of classical music' project. The project launched on October 1st , during which the customers and employees at Palas Mall Iasi could listen to famous musical pieces interpreted by some prestigious Romanian performers, the majority of them recent recording from the Orchestra Națională Radio and Orchestra Cameră Radio's seasons. The auditions were well received both by the customers and employees:
'I think that it's a great initiative for promoting classical music, which is no longer so popular today.'
' I find the initiative of playing classical music in the mall a right one, because shopping is relaxing time, and classical music definitely adds to that.'
'It's a brilliant idea and we are in for it.'
'I think that this a a great idea not only for the employees, but also for those who spend their free time shpping. It's comforting and relaxing. It makes you forget the hustle and bustle.'
After two weeks from this year's project debut, marketing director at Palas mall Iasi, Ioana Teodora Asofronii, briefly told us her firstimpression: 'We are glad that the radio has a renowned presence and that we can bring to our customers a special project, that in so many years had had no other competitor. We are happy that we are this partnership for so many years, and that we can bring this project to our customers and expose them to something more special culturally speaking. I say special because the initiatives in this kind of things are rare, but really good, and our clients are pleasantly surpised when they encounter something pretty unique in the multitude that auditory stimulli is.
In addition, this project also encouraged the presence of customers in Palas Mall in order to enjoy the music and the atmosphere.
'I would love to invite them to listen to us and visit us at any time of the day, but if they specifically came for those 5 minutes, I would recommend 5 o'clock, exactly at tea-time, they are invited to listen to those 5 minutes.
Within the same project, concerts with Romanian musicians, which enjoyed great succes were organised over the years. Furthermore, the project 'Listen to 5 minutes of classical music' has a section adressed to students, which from 2014 on benefits from materials made avalaible by Radio Romania Musical. They feature both a musical piece, as well as a story about that particular piece. More information about this campaign can be found at 'www.romania-muzical.ro/5minute, where both the songs proposed in unconventional spaces and those proposed to the students in schools can be listened to.
Reportage made by Maria-Isabela Nica
Translated by Georgiana Morozii,
University of Bucharest, Faculty of Foreign Languages and Literatures, MTTLC, year I
Corrected by Silvia Petrescu