> [Archived] Events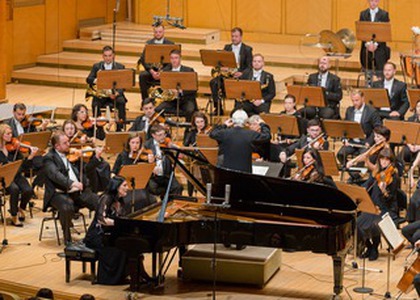 We're covering the Radio National Orchestra Concert from October 28th, dedicated to National Radio România Day
Wednesday, 2 November 2022 , ora 9.33

On October 28th, the Radio National Orchestra held a concert to celebrate National Radio România Day, an institution which started broadcasting on the 1st of November, 1928.
The programme included Concert no. 1 for piano and orchestra by Pascal Bentoiu, interpreted by pianist Raluca Știrbăț, followed after the break by Symphony no. 4 by Johannes Brahms, conducted by maestro Gheorghe Costin.
Music lovers present at the Radio Hall greatly rejoiced listening to the Concert for piano composed by the Romanian artist, showing their joy by an enthusiastic round of applause, followed by two rounds of repetitions given by Raluca Știrbăț. They also rejoiced in the interpretation of the Symphony, which resulted in an endless round of applause.
Given the occasion, I've gathered feedback from musicians and notable figures who attended the concert.

Ioana Bentoiu, composer Pascal Bentoiu's daughter: "I enjoyed it beyond words, especially because I hadn't heard my father's concert in a long time, a concert which was interpreted by Halmoș, Corneliu Rădulescu, Corneliu Gheorghiu and Mariana Ștark. I loved it and Raluca Știrbăț interpreted it marvelously -I believe my father would have been overjoyed- and did so from memory, which must be highlighted when it comes to modern works, and with great knowledge of how to bring the sound into space. Maestro Costin was also wonderful!"

Pianist Viniciu Moroianu: "Tonight's event was wonderful. I've wanted very much to come and I am so glad I managed to do so. I've known Raluca Știrbăț for many years now. She'a a professionist and lover of Romanian heritage, just like she has proved today. I am very glad to see that this piece of work, with dozens of years since its coming into being, an extremely fresh and well-written piece of work, well orchestrated by the young man Pascal Bentoiu was at that time; a piece worthy of the Jora school and not only that, but also an inspiration more than a promise for the great maestro of Romanian music that Bentoiu was."

Cristina Lascu, TV host: "I've had a memorable evening, as I've witnessed an exceptional programme both in regards to its repertoire, as well as the interpretation. The first part of the concert included the Concert for piano and orchestra by Pascal Bentoiu, which unfortunately is rarely sung, and pianist Raluca Știrbăț's interpretation was priceless. She is a great pianist, whose renown goes beyond our country, to the international audience, and a great pianist of Romanian music, two things which she proved through the two repetitions tonight. She created a fascinating sound atmosphere! The second part of the concert presented a masterpiece of Romantic music - Symphony no. 4 by Johannes Brahms, a version which carries maestro Gheorghe Costin's mark. The rounds of applause proved one more time the incredible success of this exceptional evening."
Reportage by Norela Liviana Costea
Translated by Denisa Stanciu,
University of Bucharest, Faculty of Foreign Languages and Literatures, MTTLC, year I
Corrected by Silvia Petrescu