> [Archived] Events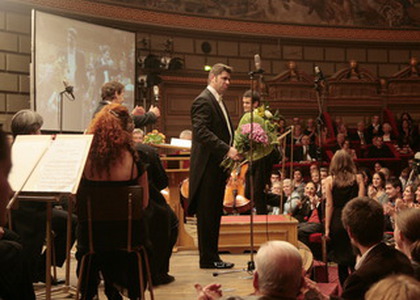 About music and life with violinist Remus Azoiței
Tuesday, 15 November 2022 , ora 14.58

There are characters of musical life that each of those who were present in the concert halls or next to the radios were happy to accompany them, first with applause, with appreciation and then only with the thought of beautiful dimensions of international careers prestige. In the case of some of these artists, I had the opportunity to follow their spoken phrases in the interviews given over time: at first restrained in words, hiding as it were rather behind ... the performed scores, because communication through music it was more familiar... Then, gradually, with the practice of the demands of speaking - not just singing - their phrases took on more openness, depth, maturity. We also discover them beyond the podium, as sincere as we feel them when they live the music they interpret.
I found such a feeling in the memories recovered by the violinist and teacher Remus Azoiței in a larger dialogue carried out over the phone, for the editions in which he speaks "About Music and... Life".
For Remus Azoiței, the age of majority coincided with the big changes that took place in Romanian society at the end of 1989 and the different stages of his training crossed distinct periods of the evolution of Romanian musical education, with its complicated directions and milestones... Listen to the artist narrating, the violinist singing (many of the performed pages being recorded from the concert) and you will also have the opportunity to understand the coordinates that distinguish the way in which young musicians are perfected in the last decades in various geographical areas...
I hope you will notice the sincerity and warmth of the words of the interlocutor on the phone, hearing the fragments of the interview alternating with forays into the violinist and chamber repertoire, bearing the performer's signature; the editions on the evenings of November 15th and 29th at 7 p.m. (broadcast again on Saturdays at 1 p.m., on November 19th and December 3rd, respectively) are dedicated to the musician Remus Azoiței.
Anca Ioana Andriescu
Translated by Medeea Alexandra Stan,
University of Bucharest, Faculty of Foreign Languages and Literatures, MTTLC, year II
Corrected by Silvia Petrescu