> [Archived] Events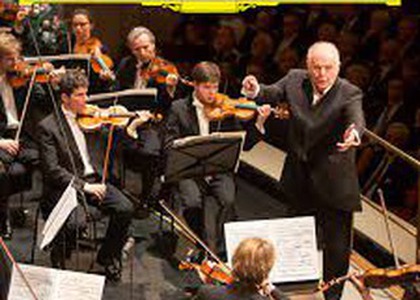 The integral of Symphonies by Robert Schumann, a discographic gift for maestro Daniel Barenboim's birthday
Tuesday, 15 November 2022 , ora 15.01

November 15th, a special day for conductor Daniel Barenboim. He turns 80, which is why the Deutsche Grammophone record company gave him a significant gift - the release of the The integral of Symphonies by Robert Schumann today, recorded at the lectern of the State Chapel in Berlin, the ensemble he has led since 1992. Daniel Barenboim has recently announced that he is retiring for a while from his concert-life due to health problems, so the gesture made by the record label icon has a special meaning. The magnetic support preserves the sonic imprint of a new and impactful musical adventure in the universe of the four Symphonies composed by Robert Schumann, so that the master's presence is maintained with an unshakable topicality and acuity. It is hard for us to perceive the musical world without its way of unifying what is apparently or obviously in disjunction. "Music can and must continue to help bridge the gulfs between people," once said the creator of the West-Eastern Divan Orchestra.
There is a version of the Robert Schumann Symphonies released in 2003 by Daniel Barenboim and the State Chapel in Berlin. In 2022 he returns to the same material with a new generation of instrumentalists, adding his years of experience and musical excellence, all the more so as this excellence is demonstrated in concert. They are, in fact, the Symphonies performed in the autumn of 2021, in the concerts of the Berlin State Chapel season, giving us a picture of the individuality and distinct sound of this orchestra, one of the oldest in Europe.
Every day, starting from November 15th, a Symphony by Robert Schumann is scheduled for CD review - Arpeggio, beautifully enhanced by the German ensemble that supports its plea in nuances and phrasing of great quality, with a single breath, often invoked by master Daniel Barenboim. We are undoubtedly charmed by the inner support and expressiveness of the string compartment, the performance of the brass, the finish and the scope of a vision that confirms the profile of an orchestra that has benefited from the long and performing tradition of the German musical school, continued by this charismatic conductor of our era.
Marina Nedelcu
Translated by Cosmin-Ionuț Petriea,
University of Bucharest, Faculty of Foreign Languages and Literatures, MTTLC, year I
Corrected by Silvia Petrescu