> [Archived] Events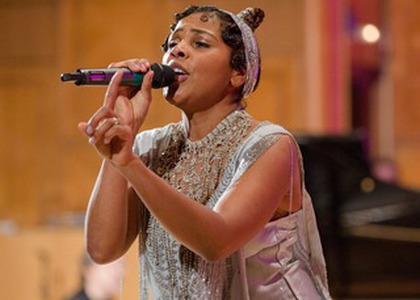 Reportage from the Radio Big Band concert featuring Alice Francis
Tuesday, 15 November 2022 , ora 15.13

Thrilling show last night at the Radio Hall, with music, dancing and video projections. Radio Big Band performed alongside Alice Francis, a German singer with Romanian roots. Players of four national rugby teams were in the audience, due to a tournament that will take place in Bucharest these days.
Alice Francis and Radio Big Band performed songs from her latest album, Club Noir, as well as some of her older hits. The soloist made an impression on the audience through her voice and charismatic style, as well as her incredible enthusiasm. She sang and danced enthusiastically from the beginning to the end, like a modern Josephine Baker.
Alongside Radio Big Band, conducted by Simona Strungaru, performed two musicians of Alice Francis's electro-swing band and dancers from the Jazz Roots Bucharest band, who contributed to the artist's success of making the audience rise to their feet.
To make it an unforgettable evening, players from the national rugby teams of Romania, Tonga, Chile and Uruguay also participated in the concert. I've gathered some feedback from the coaches of the two South-American teams and the Tonga players.
"We heard a different music genre than what we are used to back home, so it was a good experience. We were happy; we stood up and danced. Indeed, it was a good experience." (Aisea, Tonga player)
"I like jazz so I enjoyed this evening. I think it was great that the boys were able to hear such a concert." (Ricardo Cortez, Chile coach)
"It is a good opportunity to relax and see something else than what we usually do playing rugby." (Esteban Menenses, Uruguay coach)
"We really liked the concert; it was a new experience for us. The singer was astonishing!" (Anzelo, Tonga player)

Alice Francis usually performs in Berlin, but was born in Timisoara from a Tanzanian father and Romania mother. She told us in Romanian how she lived the experience.
"It was incredible. We've had audiences before who sang along, but today was fenomenal! All voices were heard as one."
Were you nervous knowing that the rugby teams were there?
"I had forgotten they were there, and when I looked around and saw some sturdy guys, I figured it was them. I thought, "Hmm, not bad. It was great."
Could you tell me a few words about your Club Noir album? Does it have a story, a plot, is it like a movie?
"Exactly, it is just like a movie; we were inspired by film noir movies about murder and "who's the killer?" type. If you listen carefully to the songs, then you will guess who the killer is, or so we visualized it."
How was your collaboration with the orchestra and the dancers?
We've had many jams today, so not everything we played was planned; a lot of it was spontaneous."

Photo credit Alexandru Dolea
Reportage by Viorel Grecu
Translated by Denisa Stanciu,
University of Bucharest, Faculty of Foreign Languages and Literatures, MTTLC, year I
Corrected by Silvia Petrescu