> [Archived] Events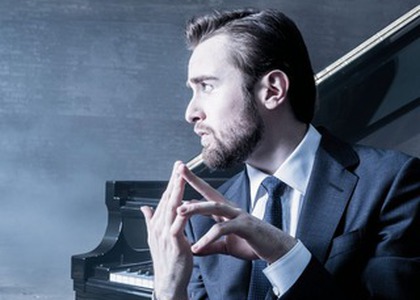 Live from Paris: Daniil Trifonov, soloist of the French National Orchestra, conducted by Cristian Măcelaru
Thursday, 24 November 2022 , ora 10.46

Live from Paris, pianist Daniil Trifonov and the French National Orchestra, under the baton of Cristian Măcelaru - an unmissable proposal for November 24 in the evening. It is not only one of the reference concerts of the current season offered at the Radio France Auditorium, but also the poster that the musicians propose for the following 4 interpretive developments scheduled in Germany: in Koln and in Munich (on Saturday and Sunday) and then at the Elbphilharmonie in Hamburg and at the Berlin Philharmonic (on Tuesday and Wednesday). A tour de force in which this flag ensemble of French musical life, of the promotion of the compositional creation made in this territory offers the audience in some of the most prestigious concert halls in Germany the encounter with pages by Maurice Ravel and Cesar Franck and the soloist presence of Daniil Trifonov is associated with a rather rarely performed opus: Concerto in F sharp minor for piano and orchestra by Aleksandr Scriabin.
For the pianist of these evenings, Scriabin's score is not new; for example, with this work he opened his 2019 series of appearances as artist-in-residence of the New York Philharmonic. Written by the composer/pianist when he was only 24 years old (and presented to the public by him himself), this opus 20 was the first published of Scriabin's creation and exudes a true romantic breath, which reminds some even of Frederic Chopin's universe of sounds. For those who are more familiar with the harmonies and writing of Scriabin's late symphonic poems, the sonorities of this concert may seem surprisingly accessible, so...exciting! It is expected that the imagination of the soloist of the evening ( a composer himself!) will offer a more meaningful, more breezy vision of this score written in 1896...
If, in the second part of the program, the National Orchestra of France pays - by choosing the Symphony in D minor - a tribute to Cesar Franck (the Belgian adopted by French culture, from whose birth, in December, two centuries will be fulfilled) the evening opens with the fairy tale world of the "Mother Goose" Suite by Maurice Ravel. Two famous works of the French compositional universe frame the late romanticism of the cosmopolitan Aleksandr Scriabin on this poster that promises to be very attractive; soon Thursday, November 24th at 9 p.m.- a particularly tempting LIVE edition of the European Stage!

Photo: Dario Acosta
Anca Ioana Andriescu
Translated by Cosmin-Ionuț Petriea,
University of Bucharest, Faculty of Foreign Languages and Literatures, MTTLC, year I
Corrected by Silvia Petrescu