> [Archived] Events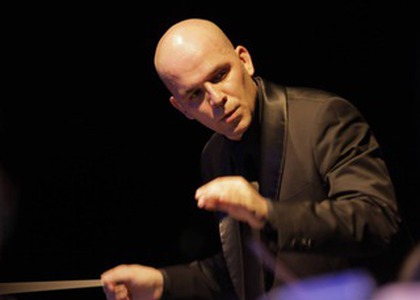 "Brave New Music" from Sibiu, the festival that explores the future through music
Thursday, 24 November 2022 , ora 12.16

Between November 16th-20th, 2022, the "Brave New Music" festival took place in Sibiu, or in loose translation "Wonderful new music". Details about this unique cultural event in Romania can be found in the interview I conducted with the conductor Cristian Lupeș, manager of the Sibiu State Philharmonic and director of the festival.

Mr. Cristian Lupeș, looking over the program of the "Brave New Music" Festival that you proposed to the public in Sibiu these days, I discovered that every concert has an aesthetic story... and even a life story. This idea generates a diversity of musical genres. Last night we listened to film music performed by two pianists and two percussionists, we will also go through various other genres, we will even get to an opera evening. But what is the red thread of the festival, what is the idea that came to you when you woke up in the morning and said: Brave New Music!
It would be good if everything happened like this one morning... As you know, I am the artistic director of the Days of Contemporary Music in Bacău, which is actually the first contemporary music festival in Romania. A festival founded by Liviu Dănceanu, Pavel Ionescu, Ovidiu Bălan... From there all the others appeared, including the Festivals in Bucharest, the one in Timisoara, the one in Cluj, and so on. I, in fact, took over that model and even if it was a complicated year, 2020, I debuted with the youngest contemporary music festival in Romania this time, Brave New Music or, in an approximate and rather metaphorical translation, Wonderful New Music.
It is a festival that wants to bring the musical phenomenon up to date in a city with a fairly conservative musical culture but, at the same time, quite long compared to other cities.

It is, however, different from the other contemporary music festivals I have attended, especially because of the works covered. And last night the hall was full... a new music festival with a full house, it seems to me a great success.
We are rather trying to do a cultural-educational act for the time being. This is why the festival program is so eclectic. The European phrase "unity through diversity" can also be applied to an artistic program. We thus depart from comfortable music for the public, as was the case in last night's concert, on the first night of the festival, with music by Hans Zimmer. Everyone knows the famous soundtracks from movies with music by Hans Zimmer, Sherlock or Batman.
We arrive at Francesco Tristano who starts from an almost pre-classical musical grammar and combines everything in a very successful "fusion", towards electronic music with chamber orchestra. We also talk about a portrait, I think unique in Romania, of the composer Violeta Dinescu. It is a portrait that we dedicate to him primarily out of respect for what he does for contemporary Romanian music. Thanks to Violeta Dinescu, the works of many Romanian musicians were recorded and thus had the chance to appear on some important CDs.

I noticed that you, in addition to conducting and speaking, that is, initiating a dialogue with the audience, talk to those in the hall constantly. I think that this also helps the cultural openness of the public.
This comes rather from a public demand. I think that in the beginning we talked about contemporary music to friends and family. Seeing that later the audition of some abstract works became easier, I said to myself that I could increase the circle of friends and I ended up saying, conveying through explanations something like a key of the music that was to be listened to and the audience ended up responding to me after the concert, telling me that without that explanation, the audition would probably have been more difficult and on the contrary, in this circumstance, the audition became pleasant, even passionate. From that moment, I tried to develop a speech that would humanize, in a way, the contemporary antics and thus help the mature audience to imagine almost anything, as the very young audience does without the help of explanations. From here comes this habit of mine, but not only mine, to say a few words, to give a hint of what we are going to listen to.

What does the opera evening involve?
The opera evening is very special for us, everything will take place in the Lutheran Cathedral in Huet square, this symbol of Sibiu, a restored, splendid cathedral. We have an opera called "Abram's Laughter" composed by Gabriel Mălăncioiu, for a joint project between the Catholic Cathedral, the Evangelical Church and the Sibiu State Philharmonic. This opera appeared last year and was dedicated to this triple partnership between us and we are happy that on Saturday, November 19th, at 7:00 p.m., the ensemble from Timișoara will come to Sibiu and present this production, an opera, we could call it rather a chamber opera, because it involves a total of 20 people, an opera in concert. But we still benefit from the superb setting of the Lutheran Church.

There is also a recital at the end of the festival, Sonoecumena. What does this thing mean?
This will be the most playful moment of the festival, the Israeli composer Doron Kaufman, who after many years of tracing his Romanian origins, even ended up having a Romanian passport, is passionate about Romanian culture and proposed to us a " jam session", an evening of improvisation, a comfortable evening. Together with some musicians we tried to gather from several cultures, Marko Ristiè on bandoneon, Marketa Janouskova on violin, Medve Sandor on trumpet and Radu Sinaci on cello, Doron Kaufman proposes an experiment in which from the solos through that everyone intervenes, slowly everything comes together in a sound mass in which everyone collaborates.
We still don't know exactly how it will be, it's an experiment, a surprise, but I said it's good to have such experiments. We start from film music and arrive at the search for the future. Basically what is contemporary music? A scene that the audience watches and on this stage, what happens, is nothing but a window to the future.

In addition to the dialogue you have before the concerts with the public, you also created some morning dialogues in the foyer of the "Împăratul Romanilor" hotel in Sibiu, where you invited a personality to dialogue with those interested. Brave New Morning Talks... How will they play out?
Brave New Morning Talks are those discussions after breakfast, on the weekend, when before we leave the house, we like to sit and talk about what happened and what we are going to do next. And that's exactly what will happen. After breakfast, at around 11.00 in the hotel foyer, we sit on some armchairs, have a cup of coffee and together with the pianist and composer Franceso Tristano, one of the days, on Saturday morning as a result of the concert on Friday, and together with Doron Kaufman, on Sunday morning, we talk about the concert that was, we talk about future projects, about some topics that we only propose but to which we can deviate, as in any morning discussion over coffee. We can talk about stage music, theater music, film music, musical experiments, practically anything that comes to our mind, including we can, in front of the guests we are expecting, program and imagine future projects.

And anyone can participate here?
Yes, it is an open discussion, we will try to broadcast it live, so that it is as easy as possible to follow, especially since on a weekend morning there may be people who prefer to see this discussion from home, from the comfort of not to go out in cold weather to the hotel.
Interview by Laura Ana Mânzat
Translated by Medeea Alexandra Stan,
University of Bucharest, Faculty of Foreign Languages and Literatures, MTTLC, year II
Corrected by Silvia Petrescu