> [Archived] Events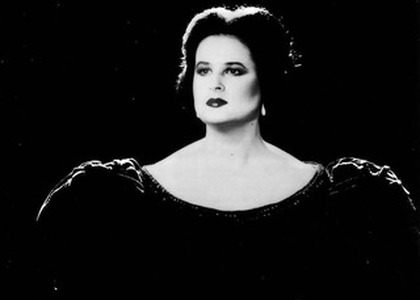 With admiration, about Mariana Nicolesco
Monday, 28 November 2022 , ora 10.34

With admiration, Mariana Nicolesco…
…that's what I called the Opera Night on this Saturday
An Opera Night- made from light ajd sound- memories in stampede and amazing statements: Godly beginning with Ave Maria (Bach/Gounod) in Maria Nicolesco's interpetation, and ending- like heroic Romanian ballads, in an infinte state of admitation and regret.
A night of tender statements: belonging to the mezzosoprano Oana Andra - the winner of the first edition of the International Canto Contest "Hariclea Darclee", contest made and chaired by Mariana Nicolesco in Brăila - and to the tenor Francesco Meli - laureate of the same contest, Edition from 2001. Of analytic statements- signed by the famous music critic Costin Popa and dr. Ștefan Poen (lecturer Nd member, from 2004, in the jury of the "Darclee" Contest). Of the "lessons" learned from Maria Nicolesco- shared to us by some of the most devoted collaborators: conductor Marco Balderi and pianist Alexandru Petrovici.
And, last but not least, a night in which Mariana Nicolesco's song will ravage us with all her exceptional attributes, from a LIVE recording from 1976: more specifically, a show with the play "La Traviata" by Verdi from the 19th of January 1976, which took place in Florence, in which our great soprano has as partner, in the role of Alfredo, the legendary Spanish Alfredo Krauss, and sings conducted by the refined American conductor Thomas Schippers.
A night In Memoriam Mariana Nicolesco - on this Saturday also becausr:
"It's been six weeks since, on a Friday day and not any day, the 14th of October, the one in which we celebrate Saint Parascheva, peacefully died in Bucharest, the great soprano Mariana Nicolesco. It's been a divine sign, because God took her to put her next to the other angels in the moment when, as always, the famous artist was showing her adoration and deep piety to Holy Mary, which she always praised as her protector. The icon of Saint Parascheva was always with her. Yes, the death of Mariana Nicolesco in the day of the celebration of Saint Parascheva was a sign of divine love. Now, after 40 days, her soul raised in the sky and now stays in the everlasting choir of eternal songs." (fragment from the evocation made on the microphone by the music critic Costin Popa)
Luminița Arvunescu
Translated by Ema-Teodora Rădulescu,
University of Bucharest, Faculty of Foreign Languages and Literatures, MTTLC, year I
Corrected by Silvia Petrescu