> [Archived] Events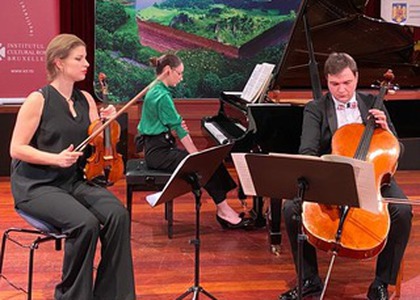 Andrei Ionită, Ioana Cristina Goicea and Daria Tudor - extraordinary chamber concert in Brussels, on the National Day of Romania
Wednesday, 7 December 2022 , ora 11.40

Wednesday, 30th of November 2022, on the occasion of the National Day, the extraordinary chamber concert "Musical Heirs of Romania" took place in Brussels and was performed in front of a packed audience by three of the most valuable young classical music performers of our country: cellist Andrei Ioniță, violinist Ioana Cristina Goicea and pianist Daria Tudor.
The audience at the Museum of Musical Instruments linstened to both a Romanian and universal programme, with two works by George Enescu (Sonata op. 6 for piano and violin and Sonata op. 26 no. 2 for cello and piano) and a piece by Ludwig van Beethoven - Trio op. 70 no. 1 for violin, cello and piano, the latter work appearing on an album that the artists released on this occasion, published by Casa Radio. "Bagatelă pentru Andra" by Dan Popescu, Radio Romania Music's partner on behalf of the Pipera Rotary Club, was performed as an encore. Our colleague Cristina Comandașu presented the show.
The event was organized by the Romanian Cultural Institute in Brussels, at the initiative of Radio Romania Music, with the support of the Romanian Embassy in the Kingdom of Belgium, the Permanent Representation of Romania to the EU, the Permanent Delegation of Romania to NATO and the Pipera Rotary Club in Bucharest.
The same chamber concert becomes the Christmas gift offered by Radio România Muzical to the Bucharest audience, who is expected at the Radio Hall on Sunday, 18th of December 2022, at 7 pm. Tickets available on iabilet.ro.
Andreea Păstârnac, Romanian Ambassador to the Kingdom of Belgium: "We can say that it was the best National Day concert, in a special place - the Musical Instruments Museum, a significant place for what art deco means in Brussels and in Europe. Three extraordinary young people, already known in Belgium and known to the international audience, were able to bring the great Enescu to us, to make him relive with an audience of friends, a Romanian audience, but also a Belgian audience."
Hans Waege, the conductor of the Belgian National Orchestra, was also present at the concert: "I was undoubtedly impressed by the concert. This is actually the first time I've heard Enescu's 2nd Cello Sonata live and I'm really moved by its music. There's so much colour, so much chiaroscuro there. It was moving and I think the others in the room felt the same. Those present were very interested. Listening to this sonata is not about the pleasure of listening, it's about feeling, about being led into a world of sound colour. There is also much suffering in the substance of the 2nd Sonata, I must say, but it resonates with you, with the humanity in all of us, you live while it is being played! Of course, it also has an optimistic dimension. You feel through it the suffering that is unfortunately a very common element nowadays, because Ukraine is close to this world. It conveys a lot of suffering and it radiates humanity and that's exactly what we want in our souls, not to forget what reality is, to remain human, to remember that we have to be there to help others, those in need. I was also touched by the European message of the programme. I think it's essential for us to understand what our values are, and the Beethoven Trio... musically, of course we've had some exceptional performers, but it was not only beautiful for me, but also particularly intense, to feel how these young Romanian artists are evolving. I knew two of the three very well; Ioana Cristina Goicea and Andrei Ioniță, who has already collaborated as a guest with the Belgian National Orchestra twice.
It's great to see them here again. Congratulations on your organization and what you do for music! It's important to support such messages in Brussels. I'm sure we'll work together again."
Liliana Țuroiu, director of the Brussels Cultural Institute: "On behalf of the team of the Romanian Cultural Institute in Buxelles, I wish all Romanians Happy Birthday! on our birthday, the National Day of Romania. What can I say about this concert... a full hall, an enthusiastic audience, many partners from Belgium, but also Romanians from the Romanian community, together with many children who listened with great attention, with great pleasure to this concert. I am so honoured because, a short while ago, as I said at the opening of this event, on December 1, 2019, George Enescu together with the works of Brâncuși exhibited at Bozar filled the halls of this extraordinary building. And today, on an emblematic stage for Brussels, we have Romanian excellence once again. It was extraordinary for all of us."
"My name is Alice Toma. I am a professor of Romanian language, literature, culture and civilization at the Free University of Brussels. It was utterly quiet. There were a lot of emotions. There were tears of emotion, not just emotions experienced on the inside. Emotions reach the window of the soul."
Dominique Nasta, first Romanian member of the Royal Academy of Belgium: "I was very impressed, especially because I was not expecting it. It was a surprise. I write a lot about music. I'm not a musician, but I'v written a lot in articles, in chapters, and now there's even going to be a chapter on music in communism in Romanian films between the 50s and the 80s. So, I am extremely receptive and the extraordinary talent and what Mrs. Țuroiu is doing here, at the Romanian Cultural Institute, all the emulation which in Belgium helped me a lot in my journey and in my motivations, and in my choices. I said this at the Academy, and I always referred of course to my origins."
Alain Brisy, member of Rotary Club Brussels: "The concert was particularly interesting. I am a Rotary member in Belgium. I found it impressive to see the young generation performing so beautifully, but at the same time with such rigour and authenticity. I didn't know Enescu's music at all before, so I discovered it on this occasion and it was indeed a great surprise. I know one of the organisers of the event and it was definitely a very special one, to bring together the Belgian and Romanian communities."
Andrei Rhoe: "I came especially for the concert. It was very nice and very well organised. Beethoven is Beethoven, Enescu is more... how should I put this... you have to think. With Beethoven you don't have to think, Beethoven is simple and straightforward."
"Cătălin Ioan is my name - Romanian citizen, Belgian resident for about a year. Exceptional! I was expecting such high quality. I saw the Radio România brand, my friends at the Pipera Club... I was expecting something very nice. I'm sure the Belgians who were present tonight appreciated it as well."
"I'm Gabriel Apostu. It was amazing. Amazing also because of the artists you brought, great up and coming artists, some I've seen in other places as well. You also mentioned Mr. Măcelaru; I saw him at Bozar, here, conductor of the Paris Orchestra. He's amazing! So we have something to be proud of. I was happy to see a transposition of the Mioriței on strings, but also an amazing virtuosity of those who played. I work at the European Commission. The Romanian community in Belgium is the most numerous after the French in Belgium and I wonder why we don't have more popularization. From the commission, I have another colleague who came here with his children. I came because I was invited from Romania. Maybe something should be done here in Brussels for people from Belgium, otherwise it's a shame."
"My name is Adrian Sorin and I've been here for several years, almost 60. Very nice! I liked it very, very much and I found the interpretation very interesting. I think it's very important to have events like this because, unfortunately, what you hear on TV... is never about culture and the beautiful things that exist in Romania."
Reportage by Cristina Comandașu
Translated by Oana Ionescu,
University of Bucharest, Faculty of Foreign Languages and Literatures, MTTLC, year I
Corrected by Silvia Petrescu