> [Archived] Events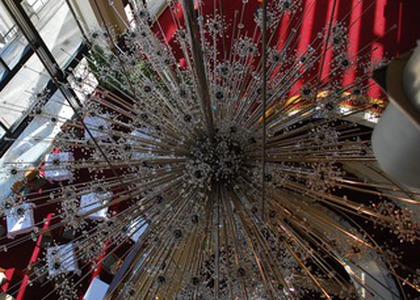 Opera night: The 25th Season of live broadcasts from MET
Monday, 19 December 2022 , ora 11.40

I REPEAT:

The First Season of live broadcasts from the Metropolitan Theatre of New York was the Season 1998-1999. And the first "live" recorded performance was the debut of the baritone Alexandru Agache from Cluj, with the main role in the Verdian opera "Simon Boccanegra", found under the musical conduction of the conductor James Levine and having as partners some of the most prestigious artists of the 20th century: Placido Domingo (Gabriele Adorno), Karita Mattila (Amelia), Roberto Scandiuzzi (Jacopo Fiesco). An unforgettable show for me, which happened on the 25th of January 1999.

The first show I commented on from the Radio Metropolitan Opera Studio International in New York was "Armida" by Gioachino Rossini. On March 5th 2011! After 13 years of live broadcasts and dozens of commented performances from the studio of Radio Romania Muzical, with guests - truly notable artists - such as Maria Slătinaru Nistor, Ludovic Spiess, Nicolae Herle, Dan Iordăchescu, Georgeta Stoleriu, Nicolae Constantinescu or Eleonora Enăchescu - and permanent collaborators, such as music critics Anca Florea and Costin Popa. The transmission of March 11th, 2011 - representing, at the same time, the first live transmission of a show from outside the country: a radio event later re-editen then by Radio România Muzical, among other several times in the years that followed, and not only at MET …

Therefore, the Season 2022-2023 which is about to begin, represents for me the "Night Opera", the 25th Season of live broadcasts taken from the famous New York stage. And I must admit, I feel a restlessness inside of me - fretting at this anniversary hour and it's the satisfaction of having created a "Night Opera" strongly anchored in modernity and above all, providing models of interpretation in all the comments with my guests …

Here are the dates, titles and some names from this 25th Season of live broadcasts from MET:

December 17th 2022 - Giuseppe Verdi - "Rigoletto"with: Luca Salsi, Lisette Oropesa, Stephen Costello, Aigul Akmetshina, Andrea Mastroni. Musical conduction: Speranza Scappucci.

January 21st 2023 - Gaetano Donizetti - "Love Elixir" with: Golda Schultz, Javier Camarena, Davide Luciano, Ambrogio Maestri. Conductor Michele Gamba.

March 11th 2023 - Giuseppe Verdi - "La Traviata" with: Angel Blue, Dmytro Popov, Artur Rucinski. Conductor Nicola Luisotti.

March 25th 2023 - Vincenzo Bellini - "Norma" with: Sonya Yoncheva, Michael Spyres, Ekaterina Gubanova, Christian Van Horn. Conductor Maurizio Benini.

April 1st 2023 - Giuseppe Verdi - "Falstaff" with Michael Volle, Christopher Maltmann, Ailyn Perez, Hera Hyesang Park, Marie Nicole Lemieux, Jennifer Johnson Cano, Bogdan Volkov. Conductor Daniele Rustioni.

April 8th 2023 - Giacomo Puccini - "Tosca" with: Angela Gheorghiu, Yusif Eyvazov, Zeljko Lucic. Conductor Domingo Hindoyan.

The 6 LIVE takeovers above, 3 more recorded LIVE shows will be added which the Radio Metropolitan Opera International of New York provides us.

Luigi Cherubini - "Medeea" with: Sondra Radvanovski, Matthew Polenzani, Michele Pertusi, Ekaterina Gubanova. Conductor Carlo Rizzi (performance from October 22 2022).

Giuseppe Verdi - "Macbeth" with: Sherrill Milnes, Martina Arroyo, Franco Tagliavni. Conductor Francesco Molinari Pradelli (performance on January 31 2023).

Giuseppe Verdi - "Don Carlos" with: Russell Thomas, Eleonora Buratto, Anita Rachvelishvll, Peter Mattei, Gunther Groissbock. Conductor Carlo Rizzi (performance on February 14 2023).
Luminița Arvunescu
Translated by Ioana Negrea,
University of Bucharest, Faculty of Foreign Languages and Literatures, MTTLC, year II
Corrected by Silvia Petrescu