> [Archived] Events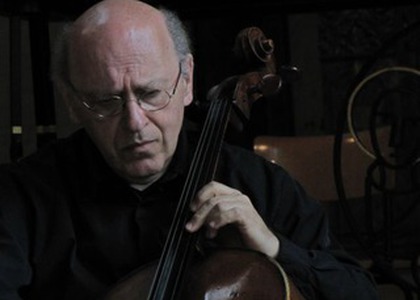 "About Music and Life..."with cellist Mirel Iancovici
Monday, 30 January 2023 , ora 10.37

At the beginning of March, in 1993, in a noisy Bucharest, a concert with an important significance was scheduled in the Radio Hall: the first live international broadcast by the National Radio Orchestra through the European Radio Union - the soloist was the cellist Mirel Iancovici, an interpretive personality who left Romania, who was returning in such a special context, interpreting the Concerto for cello and orchestra no. 1 by Anatol Vieru. Special memories for several of those who were in Radio back then, remain as fresh for the musician even now, even after almost three decades!
I had the opportunity to talk with the artist over time and - every time - I was impressed by how beautifully the words flow in his phrases; recently, the same impression was confirmed to me during our conversation on the phone for the show series "About Music and Life...".
With honesty and a special note of emotion, Mirel Iancovici answered a trivial question...
"Music represents everything for me: it's the air I breathe, it's the place whereI live... I don't limit myself to saying: I express myself through Music; I don't express myself through music, but I am a vehicle of Music!
I couldn't imagine Life without Music..."
From the cellist Mirel Iancovici we learned that he is the successor of a line of generations of musicians, whose activity took place mainly in Bacau, where the artist began his musical training. How interesting was his path towards capitalizing on his talent through in-depth studies, with teachers who believed in him, what memorable meetings he had during his school years and then college, with special personalities, what surprises life offered him after he left Romania...
However, I had far fewer recordings available than I would have liked to illustrate such a rich and diverse activity that embodies the musical concerns of the soloist, the chamber music performer, the composer, the teacher and the animator of musical life... Mirel Iancovici - an artist passionate about the sound universe, imagining a world of cultural communication through various expressive means.
Talking about Music and milestones in his Life, MirelIancovici is the guest of the series "About Music and life..." in the editions of January 24thand 31st, from 7 p.m. (broadcast on Radio România Muzical in rerun on Saturday, from 1 p.m.).
Anca Ioana Andriescu
Translated by Beatrice Porumb,
University of Bucharest, Faculty of Foreign Languages and Literatures, MTTLC, year II
Corrected by Silvia Petrescu