> [Archived] Events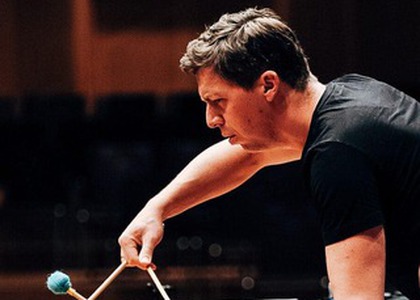 Austrian percussionist Martin Grubinger in concert at the Liederhalle in Stuttgart
Monday, 6 February 2023 , ora 10.00

One of the headquarters of the German Radio Symphony Orchestra in Stuttgart is the Liederhalle, a modern center for performances, exhibitions and congresses, equipped with five concert halls, 18 conference rooms and several foyers.
Here, on Friday, February 10th, this great orchestra that appeared in September 2016 from the merger of the radio broadcasting orchestras from Stuttgart, Baden-Baden and Freiburg will perform.
At the lectern will be Dima Slobodeniouk, a conductor who approaches classical and contemporary works with equal ease, known for the finesse and depth of his interpretations.
Born in Moscow, Dima Slobodeniouk studied violin with Olga Parkhomenko at the Sibelius Academy in Helsinki, graduating in 2001. There he also began his conducting studies with Leif Segerstam, Jorma Panula, Atso Almila, Ilya Musin and Esa -Pekka Salonen.
Dima Slobodeniouk was music director of the Orchester Sinfónica de Galicia from 2013 to 2022, principal conductor of the Lahti Symphony Orchestra from 2016 to 2021, as well as artistic director of the Sibelius Festival.
He proposes a concert in two parts, with two works. In the first part, you will be able to listen to the Concerto for Percussion and Orchestra by Daníel Bjarnason, an Icelandic composer born in 1979, about which the cultural store "Time Out New York" notes: "Daníel Bjarnason creates special sound combinations that define the indefinable world of music today."
The soloist will be the Austrian percussionist Martin Grubinger. He was born in 1983 in Salzburg, he started studying percussion at the age of 4 with his father, then he continued to study with Leonhard Schmidinger, but also with the Romanian teacher Bogdan Băcanu, and at the age of 10 he was already playing in prestigious Austrian orchestras. He often collaborated in concerts with the Chinese pianist Yuja Wang, and in 2020 he participated in the Salzburg Festival as part of the ensemble "The Percussive Planet".
In the second part of the evening on Friday, February 10th, you will be able to listen to the Music of the ballet "The Firebird" by Igor Stravinsky, a musical story with origins in Russian folklore that generated one of the most appreciated scores in the music of the 20th century.
The firebird will be among us on Friday, when you listen to Radio România Muzical, a miraculous bird, with feathers shining like gold and eyes sparkling like crystal. Certainly, the song of the Firebird brought immortality to Igor Stravinsky - Russian composer, born in 1882, at the same time conductor and pianist, French naturalized in 1934, then American in 1945. Stravinsky's music is characterized by a diversity of genres. In addition to the three ballets to which his name is linked, he also left us creations of a neo-classical nature in which he appeals to the forms of traditional music, in the last part of his life even exploring the possibilities of serial music.

Photo credit: Uli Neumann-Cosel
Laura Ana Mânzat
Translated by Medeea Alexandra Stan,
University of Bucharest, Faculty of Foreign Languages and Literatures, MTTLC, year II
Corrected by Silvia Petrescu