> [Archived] Events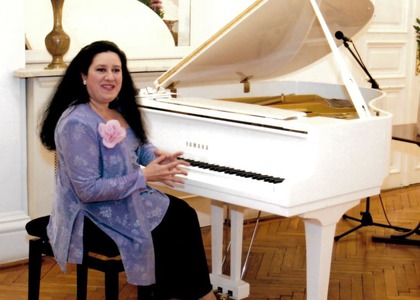 About music and life with the pianist Ilinca Dumitrescu
Thursday, 9 February 2023 , ora 11.28

There are many interviews that have brought her to the fore, articles that are dedicated to her, the recognition which reflected her activity.
Last autumn she marked an important anniversary with a recital at the Romanian Athenaeum and through a new release on CD - reissue of Domenico Scarlatti sonata album.
She literally lived among legendary figures of musical creation and Romanian performing arts and during her years of study at the Moscow Conservatory she met some of that period's titans of the musical world.
She grew up, formed herself, chiseled herself in an environment of great personalities of music, of Romanian culture … She has surpassed five decades of interpretative career, on the important Romanian stages and then the international ones. She was involved in countless projects, also making important musicological contributions, organizing seasons of recitals, contests, designing series of television shows.
A true mosaic of stage appearances in front of the clavier: concertantes, voice chambers and instrumentals, collaborations with great artists from different generations - all these are woven into one complex portrait, to which is added the extraordinary memory of the Person who respected, preserved and cherished special memories, since childhood. Ilinca Dumitrescu generously evoked many life's turns, a life that has crossed enough complicated decades, at the microphone of this show and the radio's sound library also offered us the pleasure of discovering (or … rediscovering) sound documents, recorded years or decades ago.
The following editions of "About music and life" are dedicated to her on Tuesday evenings, from 7 P.M. being resumed on Saturdays, from 1 P.M. at România Muzical.
Anca Ioana Andriescu
Translated by Ioana Negrea,
University of Bucharest, Faculty of Foreign Languages and Literatures, MTTLC, year II
Corrected by Silvia Petrescu