> [Archived] Events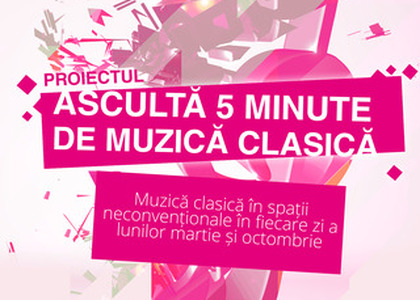 Listen to 5 minutes of classical music - between March 1st and 31st, in unconventional spaces
Monday, 6 March 2023 , ora 10.41

Hypermarkets, malls, bookstores, museums, and company headquarters: these are the unconventional spaces where the great music of all time will be heard every day of March, as part of the project "Listen to 5 minutes of classical music", initiated by Radio România Muzical and continued without interruption since 2010.
Famous musical works become part of the sound environment proposed by the project partners, all performed by prestigious Romanian performers: most of them recent recordings from the seasons of the National Radio Orchestra and the Radio Chamber Orchestra.
The project partners are important names from Romanian retail and business: Cora Romania, Castelul Bran, Dedeman, Cărturești Bookstores, Humanitas Bookstores, Iulius Mall in Iași, Timișoara, Cluj and Suceava, Palas Mall Iași, ParkLake Shopping Center, Avia Motors. With the support of Mood Media.
The "Listen to 5 minutes of classical music" project has an uninterrupted history of 13 years in unconventional spaces throughout the country. The first edition took place in October 2010 and since then, during the months of March and October, every day, the public had the chance to discover or rediscover the great opuses of classical music, in unexpected spaces, auditions received positively by both customers and the employees of the project partners. Within the same project, concerts with Romanian musicians were also organized over time, which enjoyed great success with the public.
More information about this campaign can be accessed on the page www.romania-muzical.ro/5minute where you can listen to both the songs proposed in non-conventional spaces and those proposed to school students.

Translated by Georgiana-Carmen Rădulescu,
University of Bucharest, Faculty of Foreign Languages and Literatures, MTTLC, year II
Corrected by Silvia Petrescu