> [Archived] Events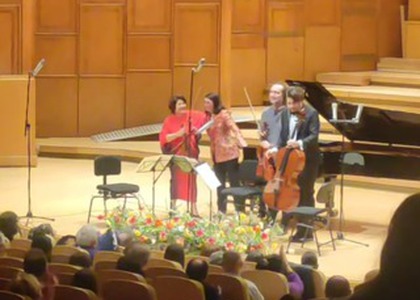 Reportage on the Sala Radio Mărțișor Concert
Thursday, 9 March 2023 , ora 11.53

On Saturday, March 4th, 2023, Sala Radio hosted the Martisor Concert, which has already become a tradition, as this is the fourth consecutive year SoNoRo Association and Radio România Muzical organize it. Our colleague, Ioana Țintea, attended the event:
On Saturday, the 4th of March, the traditional Mărțișor Concert brought important Romanian musicians on the Sala Radio stage, people accustomed to the big international stages, such as violinist Mihaela Martin, violist Razvan Popovici, cellist Valentin Răduțiu and pianist Mara Dobrescu.
In the first part of the evening, the recital's protagonists proposed a colorful musical journey, full of expressivity and melodicity, through compositions performed with Mara Dobrescu's piano accompaniment. Mihaela Martin performed Siete canciones populares españolas by Manuel de Falla, The Nocturne No. 20 in C-sharp minor by Frédéric Chopin - an arrangement for violin and piano, and Syncopation by Fritz Kreisler. Razvan Popovici performed Two Songs, Op. 1 by Gabriel Fauré, Elégie, Op.30 by Henri Vieuxtemps. Then, cellist Valentin Radutiu and pianist Mara Dobrescu performed together: Ständchen for cello and piano by Franz Schubert, Morceaux de fantaisie Op. 3, No. 1 by Sergei Rachmaninoff and Papillon, Op. 77 by Gabriel Fauré, also for cello and piano. The audience can tell us more about way in which the musicians' performances in the first half of the evening were received:
"I paid very close attention to each composition and I think they all fit very well together. Moreover, it's been a long time since I've last been to a concert in such a big hall". - Bogdan Teodorescu, Artist and Art Teacher
"They were extraordinary, especially since this is a Martisor concert, as they presented it in the radio interviews I've heard. We have some amazing performers, instrumentalists, and I'm glad to rediscover them each time". - Alma Peter, Piano Teacher
"My first impression, now, during the break, is that I cannot wait for the second half of the concert to begin, namely for Antonín Dvoűák's Piano Quartet No.2, Op.87, because it's clear to me that it is going to be the peak of this evening's concert. This first part was a real joy, and we were all delighted, without a doubt. - Verona Maier, Pianist and Teacher
The second half of the concert was dedicated to the highly anticipated Piano Quartet No.2, Op.87 by Antonín Dvoűák, for which Mihaela Martin, Răzvan Popovici, Valentin Răduțiu and Mara Dobrescu reunited on the Sala Radio stage and offered the audience a moment of high musical prowess. Their performance was rewarded by the large audience with prolonged applause, so the musicians answered with an encore of the last part of the composition.
At the end of the concert, we gathered more impressions from the public:
"It was extraordinary, perfectly suited for this beautiful spring evening". - Ion Cazacu, Lawyer
"It was fantastic! Răzvan and the others spoiled us all with this event. Everyone was excited. This is a special gift for the beginning of spring, a heartfelt Martisor, truly amazing! - Sadra Pralong, Political Science Specialist
"It was incredible! We were just talking about it, they were much more relaxed during the encore, the stressful part was over, and their harmony, their looks…it was truly fantastic!" - Octavia Udrescu, Engineer
"It was a very beautiful concert. The second half especially had beautiful, well-performed music. Razvan was, like always, a flawless artist and his fellow musicians - virtuosos in their own right". - Elena Iacob, Lawyer
"This was a highly anticipated concert because it's like a welcoming of spring each year" Adela Vârgolici, Equine Specialist.
The concert's recording will be broadcasted on Wednesday, March 8th, from 7PM, on Radio România Muzical.

Translated by Ioana Diana Sandu,
University of Bucharest, Faculty of Foreign Languages and Literatures, MTTLC, year II
Corrected by Silvia Petrescu