> [Archived] Events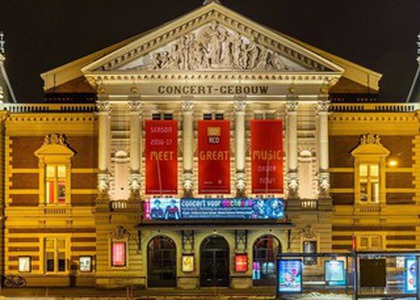 Live from Amsterdam, a traditional concert by the Royal Concertgebouw Orchestra: St Matthew Passion by J.S. Bach
Monday, 27 March 2023 , ora 14.24

The annual concert of the Royal Concertgebouw Orchestra in Amsterdam performing the St Matthew Passion BWV 244 by Johann Sebastian Bach is one of the longest-running concert traditions in the world. In 1899, Willem Mengelberg, principal conductor of the orchestra back then, introduced the masterpiece by Bach into the annual programme, scheduling it around Easter holidays. Later, the orchestra alternated concerts that included this work along with another far-reaching piece by J.S. Bach - the St John Passion, and nowadays there are editions of this event that include opuses with same theme, belonging to other composers. But the St Matthew Passion has been leading for decades in the top of preferences of the people in Netherlands. Composed nearly three centuries ago (1729), the St Matthew Passion is so moving and impressive that very few listeners may not be touched by this music.
A series of two concerts is scheduled in Amsterdam, the second of which is offered by the European Broadcasting Union to its members, as part of the project dedicated to the Holy Week, and will be broadcast live by Radio România Muzical.
This year, the concert will be conducted by John Butt - British conductor, harpsichordist, organist and musicologist, one of the preeminent experts in Bach's music, who has established himself in the field in the recent years. He is thus given the opportunity to share his vision of the St Matthew Passion BWV 244 by Johann Sebastian Bach, an emblematic work that will be performed by the Netherlands National Children's Choir, the Netherlands Radio Broadcasting Choir and the Royal Concertgebouw Orchestra. The soloists - tenor Nicholas Mulroy (the Evangelist), baritone Benjamin Appl (Jesus), soprano Sophie Bevan, contralto Jessica Dandy, tenor Benedict Hymas, bass Stephan Loges and tenor Hugo Hymas. The concert will take place at the Concertgebouw in Amsterdam.
Therefore, on April 2nd, on the Catholic Palm Sunday, at 1 p.m., during the radio programme The European Stage, we will be able to take part in an event that will bring us spiritually closer to the moment of Easter celebration, regardless of the Christian cult we belong to.
Florica Jalbă
Translated by Ecaterina Bucovanu,
University of Bucharest, Faculty of Foreign Languages and Literatures, MTTLC, year II
Corrected by Silvia Petrescu