> [Archived] Events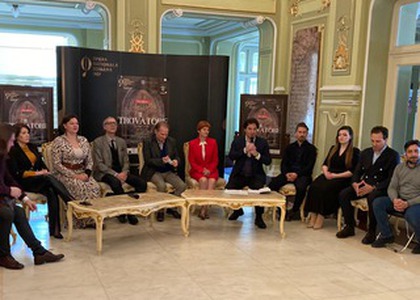 Press conference preceding the premiere of the Il Trovatore show at the Romanian National Opera in Iași
Monday, 27 March 2023 , ora 14.27

The Romanian National Opera in Iasi held a press conference today, March 23rd, at 11 am, preceding the performance of Giuseppe Verdi's Il Trovatore, which will be premiered on Saturday, March 25th, at the theater in Iasi. This event will also end the festival organized by Radio România Muzical alongside the main music institutions from Iasi, on the occasion of launching the 95.4 FM local frequency.
You can find out more about this in the content created by Lucian Haralambie.
The press conference was held in the Romanian National Orchestra's lobby and was moderated by tenor Andrei Fermeșanu, the institution's interim general director. Besides him, Cristina Comandașu, Radio România Muzical's manager, also said a few words, as well as producer Matteo Mazzoni, who offered details about the production we will be able to see at the end of this week. Following the premiere on Saturday, March 25th, a second performance is scheduled for Sunday, March 26th.
This is a modern production. The Il Trovatore, performed in Iași, is dedicated to the 15th century Italian culture in terms of costumes and design; the new elements will be introduced by set designer Giacomo Calliari, and the videodesign by Luca Attilii, who were also present at the press conference.
According to conductor David Crescenzi's declaration about the premiere taking place in Iasi: "The Iași audience deserves to see a premiere of Il Trovatore and this is the performance which ends the Popular Trilogy, a project that started with La Traviata and continued with Rigoletto - Verdi's popular trilogy makes the history of this great composer. This performance, which includes Il Trovatore, has been my dream! This very traditional performance - as I don't like modern styles - will be premiered on Saturday. It is a modern show, with a modern structure, but in step with tradition, so I am happy to have a very diverse cast."
[…] this distribution brings together mezzo-soprano Carmen Topciu, baritone Alexandru Constantin, tenor Florin Guzgă and soprano Cellia Costea, who said a few words at the end of the press conference about returning on the Romanian National Opera stage in Iasi: "I am glad that this event is happening, that such events still happen in Romania, that life is getting back to normal again after these pandemic years, which have been terrible for artists in general, nor only for Romanian artists, but also for all the artists of the world. Of course, I feel at home in Iasi because my grandfather came here in 1956, when the Romanian National Opera was founded, and he came with maestro Radu Botez. He was the first bassoonist of the Iași orchestra and he performed for 30 years. Powerful emotions keep me attached to this institution and I always come here with pleasure.

Translated by Denisa Stanciu,
University of Bucharest, Faculty of Foreign Languages and Literatures, MTTLC, year I
Corrected by Silvia Petrescu