> [Archived] Events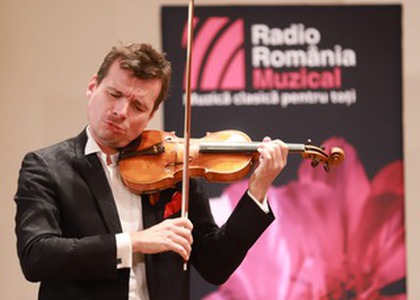 The debut of the RRM broadcasting in Iasi; the recital of the violinist Alexandru Tomescu
Wednesday, 29 March 2023 , ora 12.57

The festival proposed by Radio România Muzical to celebrate tge launch of the 95.4 FM frequency in Iasi went on Thursday, March 23rd, with a recital by violinist Alexandru Tomescu alongside pianist Iulia Toma. Our colleague Lucian Haralambie was also present in the hall.
"Wonderful! They made a perfect duo. The pianist, although she is young, managed to accompany the experienced violinist, Alexandru Tomescu. It was also time for this radio-frequency. It is especially welcome by for music lovers." - Iacob Lucian, violin teacher at "Octav Băncilă" College in Iași.
"It's hard to talk about Alexandru. He is now a God to me. I studied in this Conservatory and I heard a lot of violinists in my life, but with such vivacity... and yet another matter... he found a special companion. I wish you a good future." - Viorel Mărui, music teacher
"Alexandru Tomescu is an exceptional violinist. Even if you weren't in the field and didn't listen to music, it would surprise you anyway." - Păduraru Ionuț, 10th grade at the "Octav Băncilă" Music School.
There are opinions after the recital "Salute d'amour" that took place yesterday evening, March 23rd, at the Balș House in Iasi.
Violinist Alexandru Tomescu, solist-concertist of the Radio România Orchestras, and pianist Iulia Toma were the protagonists of the second event of the festival organized by Radio România Muzical together with the main musical institutions from Iasi, to mark the debut of the show on a new radio-frequency, in Iasi. We enjoyed a program with works by Jules Massenet, Fritz Kreisler, Edward Elgar, Camille Saint-Saëns and Cesar Franck.
At the end of this event, violinist Alexandru Tomescu said: "It was a very beautiful, very intense atmosphere. I am very glad that I was able to bring this music with a message of love, here, in Iași, at the inauguration of the new frequency of my favorite radio station, Radio România Muzical. I realized, obviously, that virtually all music speaks of love, but the songs we chose for tonight had a direct connection to everything that means this feeling that animates each of us."
The third event of the festival organized by Radio România Muzical in Iași will take place today, March 24th. The 26 years of the radio station will be celebrated with a concert held by the Moldova Philharmonic Symphony Orchestra. From 19:00, at the Students' Cultural House in Iați, the ensemble will be conducted by Tiberiu Soare, and the soloist of the evening will be pianist Alexandra Dariescu. The concert can be listened to live on Radio România Muzical radio-frequencies.

Photo credit - Vasile Coțofrea

Translated by Bogdan-Nicolae Tănăsescu,
University of Bucharest, Faculty of Foreign Languages and Literatures, MTTLC, year I
Corrected by Silvia Petrescu