> [Archived] Events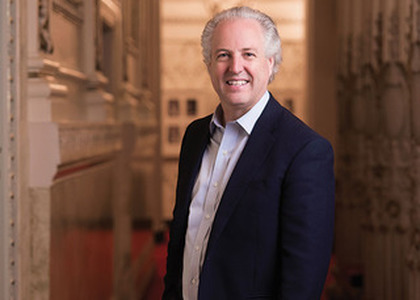 "Exiles: Remembrances" by Julian Anderson and Symphony No. 5 in D minor Op 47 by Dmitri Shostakovich – nominated by conductor Manfred Honeck at the Isarphilharmonie in Munich
Thursday, 30 March 2023 , ora 12.07

Julian Anderson's "Exiles: Remembrances" - a work composed for a world premiere in January 2022 (first performance cancelled, however, due to the pandemic) and Dmitri Shostakovich's Symphony No. 5 in D minor Op 47- another work that appeared during a period of isolation and retreat - are conductor Manfred Honeck's picks for the evening of March 31st, 2023 at the Isarphilharmonie in Munich.
This is the second of the three evenings conducted by Manfred Honeck. The Bavarian Radio Symphony Orchestra and Choir will perform under his baton. Finally, Julian Anderson's composition "Exiles: Remembrances" can be heard for the first time in Munich. The very experience of the pandemic inspired the composer, sketching through his work a broad perspective on the myriad facets of exile, whether internal or external, individual or collective.
It is "a meditation on leaving one's homeland and longing to return". Written for soprano, chorus and orchestra, the work features Julia Bullock as soloist - a soprano of the younger generation of artists, a nonconformist celebrity, a voice for young Americans, actively involved in the arts, as well as politics.
Julia Bullock is, in the opinion of critics, a passionate singer who knows how to communicate directly with the audience, an artist who creates unique projects and, in addition, looks like a movie star, beautiful and sophisticated, and with an extremely pleasant stage presence.
Keeping up this state of exile and isolation, Manfred Honeck picks Dmitri Shostakovich's Symphony No. 5 in D minor Op 47 for the second part of the evening. It was written in 1937, a year after he had become an undesirable of Stalin's regime, a disgrace which for Shostakovich meant deportation and death.
As a result, the composer isolated himself and lived in terror, feelings that permeate Symphony No. 5, a work that moved audiences to tears at its premiere and was an impressive success.
Radio România Muzical will broadcast this concert on Friday, March 31st, 2023, at 9 PM, as part of The European Scene programme.
Jeanine Costache
Translated by Andreea Zofotă,
University of Bucharest, Faculty of Foreign Languages and Literatures, MTTLC, year II
Corrected by Silvia Petrescu