> [Archived] Events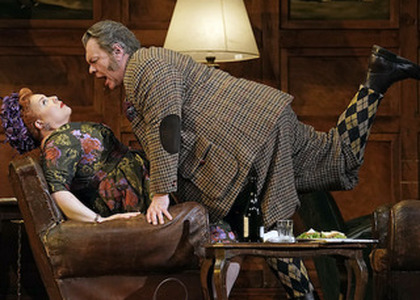 Tutto nel mondo e burla!
Monday, 3 April 2023 , ora 11.42

This Saturday, Falstaff is LIVE from the MET, and it is played by: German baritone Michael Volle (an exceptional Wagnerian artist) in his first Verdi role as Sir John Falstaff - funny and complex; British baritone Christopher Maltman (great Figaro at MET) as jealous Ford; American soprano Ailyn Perez (amazing in her Mimi rol, if you remember) in her first comic role as Alice Ford; South-Korean soprano Hera Hyesang Park as Nanetta Ford; Ukrainian tenor Bogdan Volkov (winner of the Second Prize in the Operalia contest in 2016) as Fenton; American mezzo-soprano Jennifer Johnson Cano as Meg Page; and the exceptional Canadian contralto Marie Nicole Lemieux as the irresistible Mistress Quickly. Maestro Daniele Rustioni will conduct.
Falstaff, opera composed (apparently) by Giuseppe Verdi out of some ambition of his. He had heard that Rossini said something along the lines of him not having "a comic side" and wanted to prove him otherwise by displaying a successful piece in terms of comic operas, also redeeming the failure of his only comic opera, Un Giorno di Regno, composed exactly 50 years earlier. The libretto sent by Arrigo Boito to Sant Agata in the summer of 1889 to serve as the foundation of the new opera went along the lines of the Shakespearean comedy The Merry Wives of Windsor and inspired Verdi to create a vibrant musical comedy, full to the brim with picturesque lines (Reverenza, Dalle due alle tre, Caro Signor Fontana), which made the traditional forms and schemes of which he had been attached to for so long, disappear.
More than that, Tutto nel Mondo e burla - as the hero concludes in Verdi's opera - is an extremely fitting message, as I see it, to end such a day as today: April 1st.
Luminița Arvunescu
Translated by Denisa Stanciu,
University of Bucharest, Faculty of Foreign Languages and Literatures, MTTLC, year I
Corrected by Silvia Petrescu