> [Archived] Events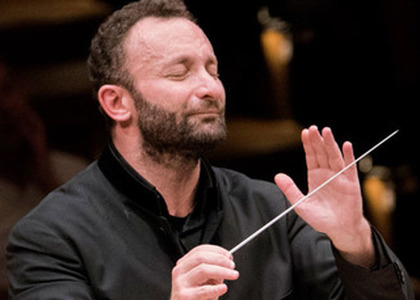 LIVE - Kirill Petrenko and the Berlin Philharmonic
Thursday, 27 April 2023 , ora 10.51

The music director of the prestigious orchestra proposes in this new concert of the season, two vocal symphonic works by Wolfgang Amadeus Mozart - "Exultate, jubilate" KV 165 and the Coronation Missa KV 317 in C major, accompanied by Spanish choral ensemble, Orfeó Català and a formidable international vocal quartet, soprano Louise Alder, contralto Wiebke Lehmkuhl, tenor Mauro Peter and bass-baritone Krečimir StraŸanac - Kirill Petrenko declaring on this occasion that he always approaches Mozart from the perspective of his works.
It is known that the conductor born in Siberia, trainedin Vienna, was chosen as the successor of Sir Simon Rattle at the rostrum of the Philharmonic in Berlin, coming with a rich experience in conducting opera. After a debut at the Meiningen Theatre, he conducted between 2002 - 2007 the Komische Oper in Berlin and between 2013 - 2021 he was appointed general music director of the Bavarian State Opera in Munich.
In 2006, his first concert as guest conductor of the Berlin Philharmonic Orchestra took place, the appointment as principal conductor of this ensemble, from 2019, being the first of his career not connected to an opera stage. But the dream was coming true, given the fact that initially Kirill Petrenko wanted to conduct symphonic music, and not opera - a dream that came true in programs that respect the rich tradition of the Berlin orchestra, summing up symphonic pages by Beethoven, Mozart, Brahms, Mendelssohn, Richard Strauss, Korngold, Berg, Webern, the Russian repertoire, Bartok, and on the evening of April 28th, Robert Schumann, the Fourth Symphony in D minor, in the revised version of 1851. It is a great opus, re-orchestrated by the composer in order to achieve greater clarity of the thematic material, although there are voices, including Johannes Brahms, who preferred the first version, composed 10 years before.
What would be the strengths of this new version from 1851, otherwise the one grounded in the current repertoire, according to musicologists? Of course, Schumann achieved the much-desired clarity, and the transitions between the parts are more refined, especially the last one, when the theme of the first part is brought back. But we are not dealing with a traditional symphony. Schumann called it "Symphony-Fantasia", with the four parts performed with very short breaks between them in the idea of creating the effect of a single movement, a single part in its entirety, thus generalizing the sonata form to the level of the entire symphony - a new idea for that time, incomprehensible in the 1841 version.
As such, we invite you to stay with Radio România Muzical on Friday, April 28th, to listen to a new Mozart - Schumann concert, unique in its structure, offered to us by the European Radio Union in Berlin, with this legendary Philharmonic and its current conductor, Kirill Petrenko.
Marina Nedelcu
Translated by Elena-Patricia Măroiu,
University of Bucharest, Faculty of Foreign Languages and Literatures, MTTLC, year II
Corrected by Silvia Petrescu