> [Archived] Events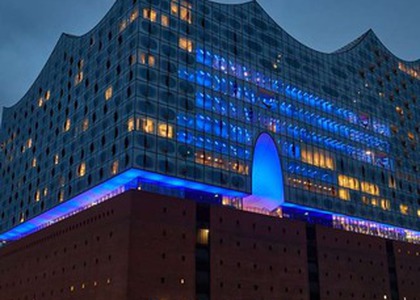 Magnus Lindberg and Anton Brukner live from Hamburg
Thursday, 4 May 2023 , ora 13.05

At the Elbphilharmonie in Hamburg, the month of May is dedicated to the International Music Festival. Having explored themes such as utopia, faith, hope and nature in previous editions, 2023's is about love. Among the events announced: Sir John Eliot Gardiner celebrating his 80th birthday with a Brahms cycle and the Vienna Philharmonic performing under the baton of the much-acclaimed conductor Jakub Hrù¹a.
Of course, the festival attracts the public mainly through the resonance of the invited names, and this year's edition does not deny it. The highly anticipated stars include Cecilia Bartoli, Jonas Kaufmann, Lang Lang, Maurizio Pollini, Krystian Zimerman, Barbara Hannigan and Yuja Wang. Unfortunately, however, the latter will be replaced, for medical reasons, by Tamara Stefanovich - a pianist who shows great physical resistance in a marathon of sonatas, with an estimated duration of five hours.
Tamara Stefanovich will replace Yuja Wang on May 5th and 7th in the concerts conducted by Esa-Pekka Salonen.
The mission of the musician born in Belgrade is a difficult one, because she will not perform a well-established score from the piano repertoire, but a German first audition concert - Concert no. 3 for piano and orchestra by Magnus Lindberg. It is a work commissioned by the China National Arts Center, the San Francisco, Toronto and Paris Symphony Orchestras and the Elbphilharmonie Orchestra.
Magnus Lindberg wrote the piece for pianist Yuja Wang after hearing her play the Piano Concertos no. 1 and 2 by Dmitri Shostakovich at the Elbphilharmonie, and the world premiere was to take place in China. The COVID-19 pandemic postponed the premiere to October 13th, 2022 at Davies Symphony Hall, where Yuja Wang was soloist in the company of the San Francisco Symphony Orchestra conducted by Magnus Lindberg's friend, his compatriot Esa-Pekka Salonen.
Here, and on May 5th, the Finnish conductor presents the German premiere of Magnus Lindberg's work, featuring Tamara Stefanovich as a soloist. Esa-Pekka Salonen associates Anton Bruckner's Symphony No. 6 with this work, which begins to make its way into music history - a work less sung, criticized and unjustly ostracized by chroniclers. "Bruckner's Symphony No. 6 fascinates with the perfect interplay of boldness and control, intellect and emotion. It's just the right thing for a comprehensive artist like Esa-Pekka Salonen." - it is written in the presentation of the concert on May 5th, 2023 at the Elbphilharmonie in Hamburg.
Radio România Muzical gives you the opportunity to listen to this concert starting at 9:00 p.m., during the European Stage show.
Jeanine Costache
Translated by Cosmin-Ionuț Petriea,
University of Bucharest, Faculty of Foreign Languages and Literatures, MTTLC, year I
Corrected by Silvia Petrescu