> [Archived] Events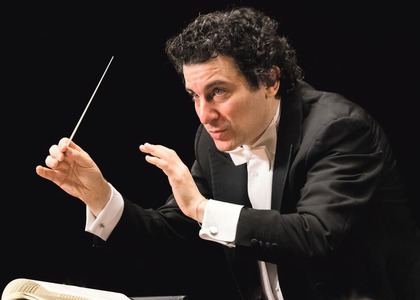 Alain Altinoglu will conduct the Bavarian Radio Symphony Orchestraat Alte Oper in Frankfurt
Friday, 16 June 2023 , ora 13.34

Radio România Muzical offers you the opportunity to listen to a concert taken over in direct broadcast from Alte Oper in Frankfurt, which will take place on the stage of the Great Hall, where the Bavarian Broadcasting Symphony Orchestra will collaborate with the conductor Alain Altinoglu. French with Armenian origins, starting with the 2021-2022 season, he was named thehead of another important German Radio Orchestra, Frankfurt Broadcasting Symphony Orchestra, so that in the city where Alte Oper is.
On the evening of June 16th, 2023, from 9 PM - Alain Altinoglu will conduct the Bavarian Broadcasting Symphony Orchestra, in a program that includes works by Beethoven and Mahler.
You will have the occasion to listen to Concert no. 2 op. 19 in B flat major for piano and orchestra by Ludwig van Beethoven, and after the break, the 4th Symphony in G major by Gustav Mahler will be performed. The soloist of the Concert no. 2 by Ludwig van Beethovenva will be the Korean pianist Seong-Jin Cho, born in 1994 in Seoul, about whom the publication "San Francisco Chronicle" tells us that "he displays an impressive variety of voice pitch's colors and a remarkable technique". Seong-Jin Cho had distinguished himself in 2015, when he won the First Prize at the "Frédéric Chopin" International Competition in Warsaw.
"We are happy the heavenly joys," will be transmitted in the context of the solo by soprano Benedetta Torre in the latter part of a symphony, different from all the other symphonies by Gustav Mahler.The fourth symphony in G major of this great Austrian composer, starts from the song "Das himmlische Leben", " The Heavenly Life" and presents a child's vision of heaven through the voice of the soprano that is heard at the end of the symphony.Soprano Benedetta Torre will play this role, she was born in Genoa in 1994, won the Youth Award in 2012 at the "Francesco Paolo Tosti" singing competition", then the second prize at the "Renata Tebaldi" competition, and at the fourth edition of the Portofino Opera Competition from Italy, she won the first prize. Since then, she has been singing propitiously on Italian and European stages.
Laura Ana Mânzat
Translated by Mihaela Ivașcu,
University of Bucharest, Faculty of Foreign Languages and Literatures, MTTLC, year I
Corrected by Silvia Petrescu