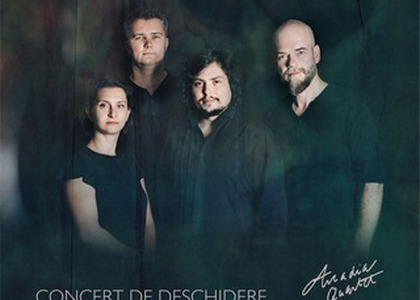 Dediu and Beethoven at the Opening Concert of Chamber Music Workshop performed by Arcadia Quartet
Thursday, 24 June 2021 , ora 16.34

The opening concert of the first edition of Chamber Music Workshop will take place on Sunday, June 27th, 2021 at 18:00, in the Auditorium Maximum Hall of Academic College, Cluj-Napoca. As organizer of this event, Arcadia Quartet will perform a chamber concert, which will include two string quartets by Dan Dediu and Ludwig van Beethoven, respectively.
Dan Dediu's quartet (No. 7, Für Ulisse) was first performed in October last year and it was commissioned by Radio România Muzical and Rotary Club Pipera to be presented for the first time at The Heirs of Romania's Music, on the occasion of celebrating Beethoven musical year. The work contains five pieces named Beethoven studies, entitled as follows: I. Labirinto de-l silenzio, II. Idyll & Dankgesang, III. Labirintodel bolero, Ravel's Tattoo, IV. Moonlight Maze, V. Fantasia fantomagica sul nome Beethoven.
String Quartet no. 14, op. 131 in D minor by Ludwig van Beethoven, one of his last magna opera, is a masterpiece of the chamber genre, bringing innovations both in terms of musical form, and also in terms of language and complexity of structure; the expressiveness and depth of music are the main elements that capture public's attention.
The concert is part of the concert season of "Romanian Youth" National Art Center, where the ensemble occupies the quartet in residence position since 2015.
Winner of many prestigious competitions, with a national and international appreciation, Arcadia Quartet soon became one of the most spectacular ensembles of its generation, performing concerts on the world's leading stages. It also recorded at some of the most important record companies. The Chamber Music Workshop is a new project by Arcadia Quartet, a project that has only now came into practice, although the idea of ​​organizing this type of event came up a few years ago. In its first edition, the Workshop aims to train the next generations of musicians, encouriging, guiding and promoting them in their professional development on the art of chamber music. The quartet from Cluj Napoca aims to get the mentoring role in deepening the already acquired musical knowledge of young musicians, and also the guiding role in their improvement as a chamber ensemble. It offers them the stage and concert experience, which bears a critical role in their artistic development, emphasizing constructive emotion management.
The chamber music workshop is a project organized by Arcadia Quartet through Arcadia Quartet Association and is dedicated to existing chamber ensembles, with strings, strings and piano or strings and winds, composed of young musicians from Romania. The project will take place between June 27th and July 3rd, 2021 and it will be hosted by "Gheorghe Dima" National Academy of Music, Cluj-Napoca.
The workshop will open with a chamber concert by Arcadia Quartet on June 27th at 18:00, in the Auditorium Maximum Hall. During the five days of the masterclass, participants will benefit from a working session with each member of the quartet. The project will end with the recital of the participating groups, on July 3rd at 18:00, which will take place in the Studio Hall of "Gheorghe Dima" National Music Academy.
Free admission, by reservation. For seat reservation, purchase tickets of 0 lei on entertix.ro or myticket.ro platforms.

Translated by Anca Ilie,
University of Bucharest, Faculty of Foreign Languages and Literatures, MTTLC, year 1
Corrected by Silvia Petrescu