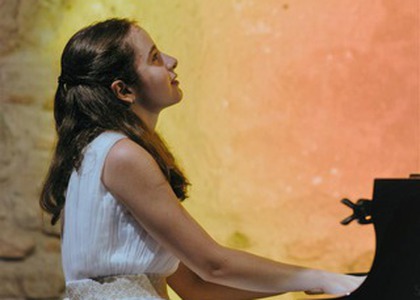 Tuesday Evening's Theatrical Season. Eva Garet's piano recital
Thursday, 18 November 2021 , ora 16.15

The pianist Eva Garet is 15 years old and she is the student of professor Mihaela Zamfirescu at "George Enescu" National College in Bucharest, studying in the ninth grade. The very young musician is the winner of the international competitions "Ricard Vines" - Spain, "Mihaela Ursuleasa" - Bucharest, "Concertino" - Prague and is the first Romanian pianist to win the competition in Ettlingen - Germany. This year she won the Euregio - Germany, Vladimir Krainev - Moscow competitions and also won second prize at her first senior competition in Ferrol - Spain, where she moved in the final with the Galician Symphony Orchestra under the baton of Jose Trigueros.
Eva Garet made her debut with the orchestra when she was 11 years old, on the stage of the Radio Hall, with the Radio Chamber Orchestra, under the baton of Stefan Novak. The young pianist was invited by Alexander Romanovsky to give a recital in Noli, Italy, under the umbrella of the "Piano B tour". In October 2021, she made her debut on the Svetlanov Hall stage in Moscow, under the baton of maestro Vladimir Spivacov.
Eva Garet is invited for the third time during Tuesday Evening's Theatrical Season.

Tuesday Evening'sTheatrical Season ( Small Hall)
23rd of November, on Tuesday. 19:00-20:00
Piano Recital
EVA GARET
Schedule
Frédéric Chopin - Andante spianato and the Great Brilliant Polish in bi bemol major, op.22
Sergei Bortkiewicz - Esquisses de Crimée, op. 8, no. 1 (Les rochersd'Outche-Coche)
Igor Stravinski/Agosti -King Kașcei's Infernal Dance from the Firebird
Frédéric Chopin - Nocturna in C minor, op. 48, no. 1

Franz Liszt - Réminiscences by Don Juan, S. 418
Enrique Granados - Los requiebros from Goyescas, op. 11, no. 1
George Enescu - Bourrée from Suite no. 2, in re major, op. 10, no. 4
Co-producer: Radio România Muzical
Tickets can be purchased as follows:
-From the Ticket Office of the Romanian Athenaeum (just one hour before the concert starts!)
Schedule: Tuesday - Friday 12:00 - 19:00. Paymentis available in cash only.
Telephone number: 021.315.68.75
-Online, by accessing the website www.fge.org.ro - "Calendar" section. Oncepurchased, the tickets are refundable strictly under the conditions provided by law.
Access in the hall of the Romanian Athenaeum is allowed with "the participation of the public up to 30% of the maximum capacity of the space, if all participants are vaccinated against SARS-CoV-2 virus and for which 10 days have passed since the completion of the vaccination schedule or individuals which are in the period between the 15th and the 180th day after the confirmation of the SARS-CoV-2 infection and the wearing of the protective mask is ensured ". The verification of these conditions will be done before the access inside the Romanian Athenaeum.

Translated by Roberta Maria Gulerez,
University of Bucharest, Faculty of Foreign Languages and Literatures, MTTLC, year I
Corrected by Silvia Petrescu