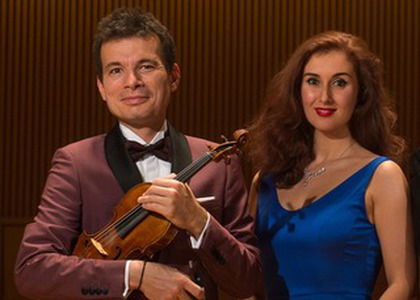 Alexandru Tomescu in Madrid – an exceptional performance
Monday, 20 November 2023 , ora 10.11

14th of November in Madrid/Spain - in the famous hall of Real Casino de Madrid, violinist Alexandru Tomescu and pianist Sînziana Mircea performed their third piano and violin concert from the series "Remember Enescu" known internatonally, a project that is part of "Timișoara- European Capital of Culture 2023" programme.
The Embassy of Romania in Spain and Romanian Cultural Institute Madrid partnering with the West University of Timișoara - Faculty of Music and Theatre, and the Cultural Foundation "Remember Enescu" have brought a new classical music concert entitled "REMEMBER ENESCU" for a large audience.
In the evening's musical programme performed by violinist Alexandru Tomescu and pianist Sînziana Mircea one could hear rare "musical jewels". The two artists have performed works such as "Meditation" from Jules Massenet's opera "Thaïs", "Schon Rosmarin", and "Caprice Viennois" by Fritz Kreisler, "Centone di sonate Op. 64 MS 112 : Sonata No. 1 in A minor by Niccolo Paganini, "Hora Unirii" and "Lăutarul" by George Enescu, "Dans Țărănesc" by Constantin Dumitrescu, and "Introduction and Rondo Capriccioso" by Camille Saint- Saëns.
"Tonight in Madrid I have performed alongstide pianist Sînziana Mircea the third concert from the international series of concerts "Remember Enescu" organized by the Cultural Foundation "Remember Enescu". I am honored and excited that we were able to bring the classical music in front of the Romanian diaspora and the Spanish audience, and their reaction shows the appreciation for the pieces that we have chosen for tonight. Music has an universal language and it's meant to bring people together and we, as artists, are happy to promote our national patrimony, our values, and to also speak about Timișoara as European Capital of Culture 2023. We want to thank and invite you to the next concerts", says violinist Alexandru Tomescu.
Real Casino de Madrid the venue for the 14th of November concert is a non-profit cultural and social institution and also a landmark in the center of Madrid. Established in 1836, in 2021 the building received the title of "Real/Regal" from His Majesty King Felipe VI, as a sign of appreciation and support from the Spanish Monarchy for its activity in the cultural, social, and artistic field.
"Music has the power of drawing people together, of unifying us in our diversity, and make us vibrate on the same frequency. So, music is the perfect instrument for celebrating friendship and collaboration between two nations, Romania and Spain, which, ten years ago decided to further strenghthen their secular ties through a strategic partnership. Let us allow music, this magic that manages to plant seeds of kindness and tolerance in our hearts, lift our spirit and delight our senses", says the Ambassador of Romania in Spain, Mr. George Bologan".
The concerts, "Remember Enescu" represent the second part of the International Competition "Remember Enescu" which took place in Timișoara between September 25 and September 30, funded by the Cultural and Art Center of Timiș Country, through the Overborder Culture+ programme. Their aim is to continue promoting classical music and the compositions of Romanian composer George Enescu in a European context. The project also encourages education through music, and the aim of this endeavor is to actively contribute at creating a positive universal perception upon the Romanian culture and patrimony, especially in the actual context of Timișoara being the European Capital of Culture in 2023.
"The spectacular musical tour "Remember Enescu", a project of the Cultural Foundation "Remember Enescu" and the West University of Timișoara, contributes to the international promotion of the city - Timișoara European Capital of Culture in 2023. Today's concert (November 14th) in Madrid, an important city with prestige in European culture, and with a large Romanian community, was truly extraordinary. The classical music programme was highly appreciated by the audience and delivered in an exceptional performance by the two musicians. All my appreciation goes to the Embassy of Romania in Spain, and especially to Ambassador George Bologan who, along with WUT, took part in the realization of this exceptional event, with the extraordinary participation of Maestro Alexandru Tomescu, who is also a professor at WUT and one of the promoters of Timișoara's music school and pianist Sînziana Mircea, a PhD student of WUT's Faculty of Music, also deserves a special mention, says university professor Dr. Marilen Pirtea- Rector of the West University of Timișoara".
The purpose of the project, designed and developed by the Cultural Foundation "Remember Enescu" is to create unique connections between different cultures, to emphasize the value of the artistic expression and culltural diversity, to promote Romanian values and its internationally known artists and, at the same time, to inspire and encourage the young generation to tackle challenging yet valuable musical pieces and pave their way to the world's greatest stages.
The concert series organized in Europecontinues in Vienna on November 27th, and Budapest on November 28th, providing an opportunity to share an intergenerational moment of music, education, attitude and value.
The project is produced by the Cultural Foundation "REMEMBER ENESCU" and was made possible with the support of funders, sponsors, partners and media partners. It is part of the National Cultural Programme Timișoara- European Capital of Culture in 2023 and is funded through the OVERBORDER CULTURE+ programme, administered by the Cultural and Arts Center of Timiș County, with amounts allocations from the state budget, through the Ministry of Culture.

Details & contact: www.rememberenescu.ro, fb: Remember Enescu Foundation

Translated by Georgiana Morozii,
University of Bucharest, Faculty of Foreign Languages and Literatures, MTTLC, year II
Corrected by Silvia Petrescu