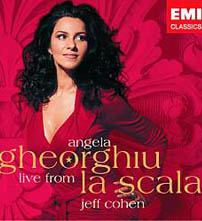 Interview with soprano Angela Gheorghiu - Live from La Scala
Sunday, 22 July 2007 , ora 15.30

On Sunday, July 22nd, starting from 11:00, Radio Romania Music gave its listeners the opportunity to listen, in a Romanian premiere, in full to the latest CD of soprano Angela Gheorghiu. The CD contains the live recording of her performance held in the company of pianist Jeff Cohen at the Scala Theatre in Milan, in April 2006. The audition was accompanied by an interview Angela Gheorghiu gave to the producer of the performance, which you can both listen to and read, exclusively on the Radio Romania Music site.

The interpretation on this disc is Angela Gheorghiu's first appearance on the Milan Theatre stage, where she had a well-deserved success, which determined EMI records, where Angela Gheorghiu has been an artist exclusively from 1998, to edit it on disc. The recital contained thirteen works from the Italian and French repertoire and six works from the Romanian one - works by Alfred Alessandrescu, Diamandi Gheciu, Tiberiu Brediceanu and Gherase Dendrino. It's a well-known fact that Angela Gheorghiu always includes Romanian works in her recitals, therefore being considered one of the most important ambassadors of Romanian creation in the world of the classical contemporary music. The enthusiastic reaction of the public determined Angela Gheorghiu to offer three encores, which are also on this CD. The official Romanian release of Angela Gheorghiu - live from La Scala coincides with the international one; the officials from EMI reminded that they wanted this release to be connected with the series of performances of Giuseppe Verdi's La Traviata, which Angela Gheorghiu performed during July 2007 at the same Scala Theatre in Milan.


Mrs.Angela Gheorghiu, because we are talking about a new disc release, I'd like to begin by asking you how the release of this CD in Milan was; most certainly they took advantage of your appearances in La Traviata...

Of course. It was a worldwide release, journalists from all over the world came, but this time EMI managed it more than I did, mostly because I had performances. It was videotaped in order to make a DVD, so it entailed a great responsibility, but I tried to divide my free days so as to please everyone.


To my knowledge, your piano-accompanied recitals never lack the so-called antique arias and the recital from La Scala isn't an exception. Why are they attractive to you?

They are like a balm for the voice and their atmosphere is very interesting; it creates intimacy between me and the audience. Then again, I have been singing them since I was a student - the repertoire from pre-classical arias was quite important in The Conservatoire - and I said to myself: why not sing it further on?


What satisfactions does the piano-accompanied recital offer you and what important problems are there in comparison with opera representations?

In the interpretation with a piano you are on stage all the time, without breaks, and the artistic act takes place closer to the public. When you are accompanied by a single instrument, a piano, not an entire orchestra, you are very, very exposed. Every breath, sound, position is observed in detail.


However, does the piano-accompanied interpretation give the soloist more freedom, as he doesn't depend on the orchestra, on the conductor, direction, partners...?

I am always a free artist. I take my freedom and others don't always like it, the conductors especially. I never have problems with my colleagues because they like having partners without inhibitions. We also have improvisation moments which need to exist when we talk about acting, so I feel free even in a performance. My only goal: to give the best part of me and to feel, to see that the public receives what I want to give it with the same passion.


On what criteria do you usually build your performance programmes?

It's instinctual. According to my own taste!


I noticed you prefer variety, you don't like presenting cycles or stylistically unitary programmes...

Yes. I find them boring, it seems to me that they address a limited public and I never have my piano performances in a little room, for a public that only likes listening to, let's say, Schubert and Schumann. For the performance from La Scala I enjoyed the idea of doing only lieder composed by opera geniuses.


Indeed, beyond the pre-classical arias, which are almost all of them from operas, some of them forgotten, some lost... plays by Martini, A. Scarlatti, Parisotti, Gluck, the programme contains wonderful plays by Bellini, Donizetti, Verdi, Gounod, Bizet, Massenet, composers in whose operas you have performed a lot.

Yes, it's a repertoire I discovered little by little in time with my friends and colleagues. I especially liked these plays because they resemble opera arias. They have certain structures which opera composers used in lieder too. And these lieder are difficult because they have a certain construction and quite a wide ambitus.


Let's talk about Romanian music. It is known that it plays a very important part in all of Angela Gheorghiu's recitals and in the recital of the absolute debut at La Scala; a third of the announced programme being dedicated to Romanian music. However, why so long, particulary at La Scala and at the end of the programme?

I would have liked even more. Why? Because I have to! I am absolutely convinced that it's time the public got to know Romanian music in the most serious and professional way. It isn't the audience's fault it doesn't know much about Romanian music. It doesn't seem normal and fair to me that worldwide only artists who left Romania are well - known and considered valuable and those who remained in the country are not. I'm sure if Enescu himself or Eugen Ionescu had stayed in Romania they would have had the same destiny. It's a fact. It isn't about value, but about an extra chance. And now there is an extra chance for me to bring forth the music of the artists who remained in Romania. There are plenty of artists in Romania as valuable as those known worldwide. I am talking about creators in fields like literature, painting, music and as often as I get the chance I mention a name or another. I feel obliged to make them known.


Coming back to the interpretation at La Scala and to Romanian plays (works by Alfred Alessandrescu, Diamandi Gheciu, Tiberiu Brediceanu, Gherase Dendrino, n.n.). Where have you perfomed them or other similar before?

Very much in London: Albert Hall, Royal Festival Hall, Covent Garden...Then in Vienna, at the Salzburg Festival, even in New York - I have more and more concerts there - in Asia...


Don't forget Paris.

Oh! Indeed, we shouldn't forget it because there, at the Palais Garnier, I performed on the last day of 2006 - the New Year's Eve Concert - especially Romanian music in the second half of the programme, with my friends: conductor Ion Marin and performers Iulia Isaev and George Petean. And at Salle Pleyel in Paris I performed Romanian music. It's a pleasure for me and, believe me, it is always a great success.


Even if we didn't believe you, there is proof. In all the recordings we discover with an immense pleasure the reaction of the public; ovations and enthusiastic applause. When Romanian music is performed well it really subdues even the most select and most sophisticated audience.

Yes. I'd like and I even invite my colleagues from Romania to create for me live moments like those long-ago, when a composer wrote thinking about a certain voice.


So you'd like to perform a Romanian play written especially for you?

A play??? Many, many, many! Lieder... anything they want. Just to understand that now, world composers write for a voice, with a play that can be sung, with consonances, with interesting subjects. For example next month, Roberto and I (tenor Roberto Alagna, Angela Gheorghiu soprano's husband, n.n.) are performing an opera composed especially for us by Vladimir Cosma, our compatriot and my friend. He consulted us for each detail, it was an extraordinary collaboration. In two weeks' time we will have already recorded this play in French, which is called Marius et Fanny.


Coming back to the recital "Angela Gheorghiu live from La Scala'', at the end of the announced programme, before the three encores (a canzonet, a musical aria, an opera aria) someone from the room called "Long live the mother who gave birth to you!' You can hear it very well on the disc.

You can hear it on the DVD, too. It was appealing. It probably was someone from Romania who was glad to be there. Of course that, at editing, they cut a lot from the applause, which can become boring; the dialogue I have with the public during the concerts was cut, too. We all have different desires...


Do you take suggestions from the public?!

Of course! Suggestions of the most daring such as "Vissi d'arte', "Casta diva"...


Have you ever performed what was suggested to you?

It was a happy coincidence and in these situations the audience is delirious. The experience of this recital from the Teatro Alla Scala was very important, and with my friend, pianist Jeff Cohen, I always feel safe and in perfect communion. I especially liked the fact that he got involved very much in Romanian repertoire, too. It was a very good stylistic dialogue between us, once he even tried to create a typically Romanian atmosphere.


You have an important discography, but at this time the record houses are in recession. Less discs are released, studio recordings are very rare, especially opera integrals, due to high costs. In this context, are there any more chances for new studio appearances by Angela Gheorghiu?

Yes. The first recording will be a recital in the studio; I'm trying another repertoire, new things... you will be very surprised. After that I will be recording in a studio, in Rome Madame Butterfly by Puccini with Academia di Santa Cecilia and Antonio Pappano as conductor. My partners will be Jonas Kaufmann and Simon Keenlyside.


What about with Roberto?

We are preparing a disc with music from movies. But for now, we are recording in a studio Marius et Fanny, Vladimir Cosma's opera.


Good-luck with your latest Traviata Show and with everything to come!

So be it! All the best to you, I hug you all.
Ligia Ardelean
Translated by Roxana Bria and Mircea Filimon
MA students, MTTLC, Bucharest University