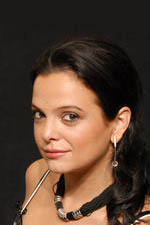 Interview with mezzo-soprano Roxana Constantinescu
Friday, 1 June 2007 , ora 15.46

Roxana Constantinescu, you have recently received an excellent piece of news. Starting next season you will be part of the soloists of the Vienna State Opera, one of the few institutions of the kind that really establish an artist. Which were the steps leading to this success?

The first part was my arrival in Munich, where I completed an MA which lasted two years and during which I had many successes and pleasant surprises. I met various people and I took part in contests, such as "ARD" - the most famous competition organized by the German Broadcasting Station- where I was awarded Second Prize (The First Prize was not awarded) and "Paul and Helga Hohnen" Opera Contest, where I won First Prize and The Public's Prize. There were two victories in the same month - September 2006 - which led me to extremely lucky circumstances. I started collaborating with a managing agency from Zurich, which organied auditions for me at the Vienna Volksoper and the Vienna State Opera.


For what period did you sign the contract with the Vienna State Opera?

For two years. It's a "beginner" singer contract, so to say, without permanent experience on a lyric stage. I will interpret great parts from the mezzo-soprano repertoire, which suit me very well, such as Zerlina in Don Giovanni, Cherubino in Le nozze di Figaro, ossia la folle giornata or Nicklaus in Les contes d'Hoffmann. It's delightful.


How was the first contact with the Vienna Opera stage?

Incredible! I felt like home. I was lucky that the audition took place in the Auditorium, where the acoustics is wonderful. And Mr. Ioan Holender, the general manager, was, as usual, extremely receptive to young singers and, because I am a Romanian, he supported me a lot.


Before the beginning of the 2007-2008 season will you enter a preparation period or will you have more concerts and recitals?

Of course I will prepare for the roles I am going to interpret and I need time for this. But the next months are very busy. In May, I am having a tour with "Matthäus Passion" in Torino, Pisa and Milan, under Helmuth Riehling"s baton, in June a lieder night with pianist Marcelo Amaral and performances at Prinzregentheater in Munich, with Ein Sommernachtstraum by Mendelssohn. In July I will be in the United States of America, at the "Bach Oregon Festival", where I am performing as soloist in Beethoven"s Missa solemnis, again with Helmuth Riehling conducting.


A festival that you took part in last year, too.

Of course. And in August I am going to take part in some specialization courses at the Ravinia Festival, near Chicago, and work with a remarkable pianist, Malcolm Martineau and with conductor James Conlon. I will not have time to breathe, but it"s exactly what I wished for.

Translated by Roxana Bria and Mircea Filimon
MA students, MTTLC, Bucharest University