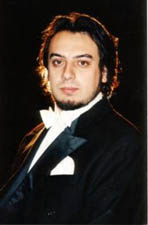 Interview with the baritone George Petean
Thursday, 24 September 2009 , ora 11.01

The well-known Romanian musician is the star of the show The Barber of Seville by Gioachino Rossini, staged in the 2009-2010 season at the L'Opéra de la Bastille in Paris: 14 performances running between the 14th of September 2009 and the 23rd of April 2010.


How is the staging and who are your partners?

The staging is a classical one, the only difference being that the action takes place in the East, along with a scenography full of breathtaking sceneries. My stage partners are the tenor Antonino Siragusa as Count Almaviva, the French mezzo-soprano Karine Deshayes as Rosina, Paata Burchuladze - Basilio, Alberto Rinaldi as Bartolo, a very dear friend of mine - we have known each other for over eight years - and Bruno Campanella - the conductor of the performance.


You have been invited to perform on important lyrical stages and your career is clearly going uphill. What are your projects for the near future?

From here I am off to Hamburg, where I am singing in A Masked Ball, then a new staging of Lucia di Lamermoor is to be under way, the performances taking place next year, in January. Immediately afterwards I am off to New York to make my debut at The Metropolitan Opera in La Bohème, after which I am headed for Monte Carlo - still in La Bohème - and I will return to Hamburg for La Traviata, close off in Seville in La Traviata. This is my schedule until June 2010.
Cristina Radu
Translated by Alina-Olimpia Miron