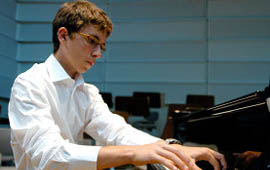 Interview with the pianist Teo Gheorghiu
Friday, 20 February 2009 , ora 11.26

Born in 1992, Zurich, of Romanian parents, Teo Gheorghiu is a young pianist on the rise to international artistic fame. He made his debut as soloist in 2004 at the Tonhalle, with Concert op.54 by Robert Schumann, receiving that same year First Prize at the International Competition in San Marino and -the following year - First Prize at the Franz Liszt International Competition in Weimar. Afterwards, in 2006 he discovered he had a passion for acting and landed the title role in the cinematic production Vitus. Up to the present, Teo Gheorghiu performed the soloist part in concerts by Mozart, Beethoven, Chopin, Rachmaninoff and Bach. Because the young artist will be performing at the George Enescu International Festival in autumn, in Romania we have invited him to a dialogue.


Where does your passion for music come from?

It is difficult to say; music has always been an important part of my life, even though nobody in my family is a musician.


You have been studying piano at the Purcell School in London since 2001. Is your musical education associated exclusively with this institution?

Not entirely. I am in enormous debt to the Purcell School, but I am equally grateful to my former teachers, who have laid the basis of my musical education. The institution where I'm now studying has had a major contribution in shaping my artistic character.


You have professed your admiration for the composer Johann Sebastian Bach and pianists Edwin Fisher, Rubinstein, Lipatti and Chopin. How much have these musicians influenced you?

I don't exactly know. They have probably influenced me considerably on a subconscious level, but I am trying as much as I can to develop a personal style and not 'copy' performing styles. I enjoy listening to recordings of these pianists and I wish to learn a great deal through their performances: Lipatti's interpretation seems extraordinary to me, the ideal.


Do you wish to play on a certain stage or alongside a certain conductor or orchestra?

There are so many great orchestras in the world; I wish to play on all the big stages, alongside the great orchestras and great conductors, but not in the very near future. First I want to grow as an artist and hope to be lucky enough and work hard, in order to get where I want. Still, a possible collaboration with the Philharmonic Orchestra of Vienna is one of my dreams that I hope will materialize in the future.


This year you will play at the George Enescu International Festival. Considering your Romanian roots, how do you feel about your first appearance on a stage in Romania?

I've never been to Romania and I can't wait to get there because my parents are Romanians and my grandmother lives in Bucharest. The invitation I received from the organizers of the Festival was a great honour for me and I can't wait to visit Romania to see with my own eyes everything I've only heard about it; in Bucharest I will play alongside a renowned orchestra, the English Chamber Orchestra.


Even though you are at the beginning of your career as a pianist, you have already won international recognition. At the same time you have discovered your passion for acting. Do you intend to continue with both careers?

I think acting was a temporary pursuit. I enjoyed it a lot, but I see myself rather as a pianist than an actor and I wish to pursue a career as a pianist.


What concerts do you have in store until you arrive in Bucharest, in autumn?

At the end of May I will play in Zurich and in July at the Festival in Dortmund, Germany. In August I will give a recital at the Ohrid Summer Festival in Macedonia, at the end of the month I will take part in a tour in China, and on September 11 2009 I will play at the George Enescu Festival in Bucharest.
Alexandra Cebuc
Translated by Alina Bucurel
MA Student, MTTLC, Bucharest University