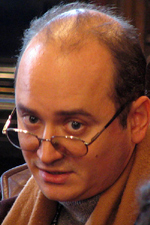 Dan Dediu's Music - in Hamburg and Boston
Saturday, 4 April 2009 , ora 11.28

Dan Dediu is currently one of the most performed Romanian composers, both in Romania and abroad. For the first time, in April 2009, two titles from his creation were chosen for presentation before the American and German audience. The composition A Mythological Bestiarium was performed in Boston by violinist Irina Muresanu and pianist Dana Ciocârlie. The audience could enjoy the second work, Hymnus Phantasticus, in Hamburg, performed by the Hamburg Camerata Orchestra.


What can you tell us about your work, Hymnus Phantasticus, presented in Hamburg, for the first time ever?

This work was requested by the Hamburg Camerata Orchestra, which is performing it for the first time, actually accompanying trumpeter Jeroen Berwaerts, who plays solo in the North German Radio Symphony Orchestra. There is a context in which my work somehow "comments" the common thread of the entire concert, i.e. Haydn's music. Three of Joseph Haydn's compositions are performed besides mine, thus paying homage to the composer in Hamburg, two hundred years after his death. My composition is based on a few elements extracted from the famous anthem of Germany - which used to be the national anthem of Austria. Therefore, it is some sort of "comment across time' of a musical history and of a musical "monument''.


Tell us more about the composition performed by violinist Irina Muresanu and pianist Dana Ciocârlie, in Boston.

I was present "in spirit'' across the Ocean, because I was not able to take the trip to Boston. I received a request from the "Harvard'' Musical Association in Boston to compose a piece of great dimensions for violin and piano. I composed A Mythological Bestiarium, in which six "mythological animals'', or let's call them six "spirits', are "photographed' from a musical point of view and are brought before the audience, in their sonorous form. Irina Muresanu and Dana Ciocârlie performed for the first time this cycle and I hope it will soon be recorded on compact disc, in order to be listened to by the large audience. I can already announce that there's going to be a premiere at the International New Music Week Bucharest festival, at the end of May, in the "George Enescu'' hall of the National University of Music. The premiere I am talking about is that of the Eva opera, on a text signed by Matei Visniec. I will provide the accompanying part, which will include piano reduction, two soloists and a men's choir. It is my third opera and I hope I did a good job with it.
Alexandra Cebuc
Translated by Andreea Banciu
MA Student, MTTLC, Bucharest University