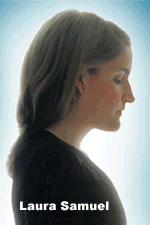 Interview with violonist Laura Samuel
Tuesday, 13 October 2009 , ora 11.37

On the occasion of the recital performed by The Belcea Quartet on October 13, 2009 at the Romanian Athenaeum in Bucharest, starring pianist Kevin Kenner as special guest, Laura Samuel, the second violinist of the choir, agreed to tell us about the programme, about the activity of the chamber ensemble and also about her own vision of music.
How did you get the idea of inviting Kevin Kenner to play alongside the Belcea Quartet on the Romanian Athenaeum stage?


We are very fond of César Frank's Quintet and we wanted to perform it for a long time. Kevin is an old friend of Krzysztof, the violinist of the Belcea Quartet. I think they met years ago, in Poland. We wanted to work with him and this was our opportunity to invite him. We are very excited to be on the same stage with him tonight.



How did you settle on the works in the programme?


We have performed on many occasions at the Athenaeum in Bucharest where we interpreted a large number of the works that we had established for this year. We performed quite often Mozart's Quartet (the Quartet of the "Dissonance"), we are very fond of it, we also recorded it six years ago and it seemed the right choice. We will also perform Langsamer Satz by Webern, which is very seldom interpreted. This isn'tthe first time we perform works by Webern here. We have also interpreted the five Pieces. Yet, these works are composed in a very different manner. Langsamer Satz is a very romantic work. It bears no ressemblace to Webern's late works. This is a work he composed in his early years and it perfectly balances the rest of the programme.



Regarding your career as a violonist at the "Belcea" Quartet, what made you choose chamber music ?


I have always wanted to perform within a chamber ensemble. Both my parents were violinists and when I was little I used to interpret with them many chamber music works, such as quartets or trios. For me it represented an extraordinary repertory, in a wonderful ambience. It goes without saying that we all study soloist works, when we learn to play the violin. I feel privileged that I had access to such an experience, because I learned a lot about performing alongside other musicians and being downright. Performing in a quartet is a wonderful opportunity, because it involves a fantastic repertory. It takes a lot of work, but the satisfaction is enormous.



You play a Stradivarius violin. What are the benefits of such an instrument in a quartet?


Indeed, I have the privilege to play a Stradivarius that previously belonged to Sigmund Nissel, the second violinist of the "Amadeus" Quartet. The same as all the instruments created in that period of time, it has a more profound sound, especially on the G and D guts. Sometimes it sounds like a viola, because of the profound, dark color. My mission in the quartet is to be the link between the first chair, which is bright and the viola. Thus, the instrument I play has the wonderful characteristic of being half violin, half viola.



Together with the other members of "Belcea" Quartet, you teach classes of music artistry in Romania and abroad. Are there any differences between the Romanian and foreign students?


I think there are differences between students, regardless of their nationality. There are certain features, specific to the background of a country or to the education. These differences are notable in someone's manner of performing. Nevertheless, I would say that there are more similarities than differences between the students I have guided. We like teaching. Due to the support of the Romanian Cultural Institute, we have the opportunity to guide young quartets from Romania. We have been teaching music artistry classes on a regular basis lately. For us it is a real pleasure to see the students progress and improve.



How important is the educational activity of the "Belcea" Quartet?


We take it very seriously; the educational part of our activity is very important. In Bucharest we have the support of the Romanian Cultural Institute, but in London we have an internship programme at the Guildhall School of Music and Drama, where we train members of new-formed quartets. We find it very important because we ourselves have had wonderful teachers with a vast experience, eager to share their knowledge, which is priceless. We are also glad that there is not an important age gap between us and our students. It is just another way of teaching; one that benefits both parts.



The members of the "Belcea" Quartet come from four different countries. Were there any problems due to cultural differences or, on the contrary, was it an advantage for the sound of your ensemble?


I think diversity was more of an advantage that a barrier. Sometimes it seems to me that we want people to be the same or perform in the same way. But from my point of view, differences matter. It would be counterproductive to have conflicts over musical ideas. I think the difference between the personality of each member of the ensemble and the way we approach a score, are the key elements that make our recitals interesting. I think that the differences between us worked in our advantage rather than represent insurmountable difficulties.



You recorded works by many composers. What determined you to choose their musical pieces?


We recorded the Bartok Quartets integral. We haven't recorded works by Haydn, but we would like to do it in the near future. Our last CD compiled all six quartets by Bartok. And recently we recorded a CD with musical pieces by Schubert, which will be released in November. It will include his last two quartets and a quintet which we will perform together with Valentin Erben from the "Alban Berg" Quartet. We always try to record as much as possible. We usually release one CD every year, each with a different approach, depending on the repertory we decide to perform.



Which was the most important thing you learned in the 15 years of activity of the "Belcea" Quartet?


This is a difficult question. Sometimes 15 years seem a long time but on occasions we feel that we began rehearsing together just yesterday. We hope to continue learning together and develop, have an open attitude and approach a diversified repertory. At times it is hard to return to a quartet you performed years before and be aware of how many things you accomplished in the meantime. I believe an ensemble is on a continuous journey, wondering what the composer meant to transmit, changing the way to approach a part. It is an endless process of changes. This is what we have been doing for the past 15 years and what we hope to continue doing from now on.
Petra Gherasim
Translated by Roxana Cristea (Bocicai) & Mircea Filimon
MA Students, MTTLC, Bucharest University