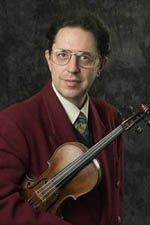 Interview with the violinist Serban Lupu
Wednesday, 19 August 2009 , ora 11.39

Although all the philharmonics around the country are now on vacation, classical music lovers can enjoy the various festivals dedicated to it that take place all over the country. The Musical Citadel of Brasov International Festival is one of them and takes place between the 12th and the 19th of August 2009. The violinist Serban Lupu - the Artistic Director of the festival talked to us about the agenda of the festival and also about the difficulties that arise when organising such an event.


What is the novelty that The Musical Citadel of Brasov Festivalbrings compared to other festivals in the country?

Every edition (we have reached our seventh) has had an original element. I could even say that this time there are two. The first one is the performance of the 'Enescu' eurhythmics-dance group from Stuttgart, Germany. This is a dance routine composed of movements meant to get us in touch with the harmony of the world, of the spirit... It will surely be a new and interesting experience for the audience in Brasov.

The second event that I find to be interesting is a sacral music concert that will take place exactly on the 15th of August - the day of the religious celebration - at the Catholic Church in Brasov, with the participation of the artist Georgeta Stoleriu. The festival will also try to mark the great anniversaries of the musical world: Handel, Haydn, Mendelssohn, Martinu, therefore, we have an interesting and flexible agenda.


Although, as I understood from reading the manifesto posted on the website of the festival, The Musical Citadel of Brasov has been affected by the crisis as well, the entrance at this year's concerts is free. What made you take this decision?

It is true, we too have been affected, but I have decided, together with my wife and the 'Serban Lupu' Foundation to continue this event and to finance it ourselves to a great extent, as it would have been a pity to miss an edition. In addition, respecting the tradition that we established in the previous years together with the County Council, the entrance is always free.


Which do you consider to be the target audience of the festival?

I would say that, besides the Brasov audience who loves and has a very good knowledge of classical music, the festival also targets a young audience. It has always given me a great pleasure to see the ever growing number of young people in the audience attending either classical music concerts, jazz concerts or even folkloric concerts. Let's not forget that we also had a poetry night - and this time we have a dance night. We have always tried to make the festival as appealing to the young audience as possible!
Andra Ivanescu
Translated by Dorina Burcea
MA Student, MTTLC, Bucharest University