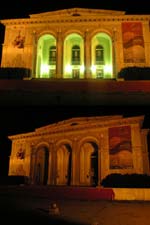 Interview with Catalin Ionescu Arbore, manager of the National Opera House in Bucharest
Sunday, 11 October 2009 , ora 11.51

The 2009-2010 season of the National Opera House in Bucharest was opened on Saturday, October 10th 2009. The manager of the institution, Mr. Catalin Ionescu Arbore offered us more information on the new shows:
Why did you choose Evgheni Oneghin to be the opening show of this season ?

Evgheni Oneghin was unanimously chosen by the audience and the critics to be the most representative show of the last season. It is very good that a high quality show be the driving force for the new season.



What does the National Opera House in Bucharest offer its audience in the near future?


We try to keep the same rhytm, level and quota we had in the previous seasons by bringing in new productions, new titles and by giving special attention to youths, especially children, in order to educate and attract them towards the opera shows. This thing happened the second day after the season opened. We premiered a show from The Experimental Studio for Opera and Ballet Ludovic Spiess named Fata marii (The Sea Maiden) a choreographic poem by Carmen Petra Basacopol.
The premiere of a new production of Hänsel and Gretel will take place in December 2009. We will continue presenting anniversary shows which at the end of this year will be dedicated to many great personalities, members of our ballet company, such as Elena Dacian, Carmen Anghelus and Georgeta Vretos.
We are also trying to fit in a rather short time frame, as we are preparing to clear the stage by May 1st 2010, when the restoration works are due to begin. This is a very good thing, as it will give us the chance to work in a suitable, more functional building, much more up to date with the times we live in.
Andra Ivanescu
Translated by Tone Monica Cristina & Mircea Filimon
MA Students, MTTLC, Bucharest University