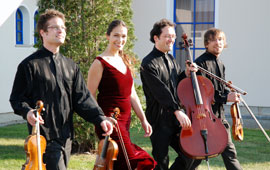 Interview with the violist Aida Carmen Soanea
Wednesday, 28 October 2009 , ora 11.56

On October 28th 2009 the 'Delian' Quartet, composed of the violinists Andrei Pânzaru, Andreas Moscho, the violist Aida Carmen Soanea and the cellist Romain Garioud, debuted at Musikverein in Vienna. The works submitted in the program were the Quartets op.76 no.3 by Joseph Haydn, no.4 op.83 by Dmitri Shostakovich and op. 18, no1. by Ludwig van Beethoven. The concert was also recorded by the Austrian Broadcasting (ORF).


The 'Delian' Quartet holds an important concert, in terms of the location - Brahms Hall from the famous Viennese centre Musikverein - and of the schedule. How did this concert appear on your agenda and why did you choose these opuses?

Every musician's wish of performing on a well-known scene coincides with our wish of appearing more and more on foreign stages. We have been a quartet since 2007 and we have already performed in Germany, Italy, Spain, France, on Radio France Music, and presently on the Viennese scene. The program was conceived concordantly with the Haydn Year, in which we sang many quartets written by Haydn, we also recorded a CD at the Record Label Oehms from München, which will come out in about one month and will contain two quartets by Haydn, a double concerto for violin, piano and string quartet and a short piano concert. The guests are Gilles Apap, who will play the violin and Andreas Frölich, who will play the piano.

We have also interpreted the Quartet no.4 by Shostakovich because, being a quartet, our desire is to approach as much as possible more music of the 20th century. After the break, we performed the first quartet by Beethoven, op.18, no.1 which we hope to record next year together with string quintets with two violas, also written by Beethoven, and with Gerard Causé playing the viola.


Do you intend to perform on the Romanian stages?

Absolutely. In 2011 we will be honoured to come to the 'Enescu' Festival, and, in 2010 we might visit the country in order to present ourselves live, as a quartet.
Monica Isacescu
Translated by Dumitriu Delia and Ramona Grama
MA Students, MTTLC, Bucharest University