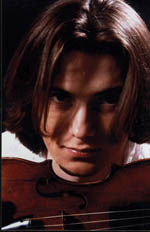 Interview with the Violinist and Composer Vlad Maistorovici
Tuesday, 27 October 2009 , ora 12.00

The young musician, Vlad Maistorovici, is preparing to make his debut as a violinist on the stage of the famous Wigmore Hall in London (on October 26, 2009). As a composer he is starting to receive more and more orders (among which, the most important one may be that from the London Philharmonic Orchestra). We had a brief conversation with the artist - who is currently taking violin lessons from Pierre Amoyal at Lausanne and composition lessons in London, with Mark Anthony Turnage - a conversation on his projects.


Your musical agenda is full of events. Your name is written on posters both under the title of violinist and composer. Which are the most important projects you have been part of in the last few months?

There were concerts during the Spoletto Festival, composition contracts received from Northern Chords Chamber Music Festival, from the London Philharmonic Orchestra, and Cercles Ensemble. There were quite enough projects, therefore I am glad because I never get bored.


I know that very soon you will make your debut on the stage of Wigmore Hall. Please, tell us more about this event and also, how you managed to work with the London Philharmonic Orchestra.

The Wigmore Hall concert is promoted by the Tillett Trust. Every two years, the Trust organizes auditions for young artists in order to promote them. Almost a year ago, I was the winner, and thus they will represent me for the next two years. This will be a presentation concert, held in the most important chamber music hall in London. The collaboration with the London Philharmonic Orchestra is also part of a project (for young composers), a project for which I was asked to write a short five-minute piece. The deadline is February and the piece will be played by LPO at the Royal Festival Hall.


I hear you are also part of a chamber ensemble.

The collaboration with my colleagues in Mercury Quartet inspires me greatly. They are extremely versatile musicians. We started out focusing on 20th and 21st century music, and meanwhile we realized that each and every one of us has a small ounce of talent for composition. That is why we have now developed many projects of what is called "live composition" (I do not like calling it improvisation because we make use of the skills we have learned from training in classical traditional music and with them, we create pieces on the spot, pieces that reflect the personality of each of us).


What is your agenda for the next months?

Currently, I am on track with every project. Next, there will be two concerts in Italy, followed by the one at Wigmore Hall. After that, I will be concerting in Oxford with Mercury Quartet (a concert which does not include live composition). For next year, there will be other projects, I also have to finish the piece for London Philharmonic. I am very busy, but it is nice.
Irina Cristina Vasilescu
Translated by Andra Stroe and Lorena Fota
MA students, MTTLC, Bucharest University