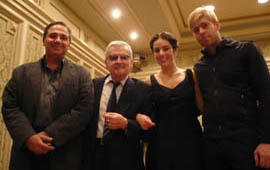 Interview with Ioan Coriolan Gârboni, the Organiser of the American Romanian Festival in Timisoara
Saturday, 7 November 2009 , ora 12.16

The third edition of the American Romanian Festival in Timisoara (organised between the 3rd and the 7th of November 2009) comes after a series of events dedicated to the Romanian culture in the United States that also included concerts in which works by Béla Bartók and George Enescu were performed, organised by violinist Marian Tanau who is a member of the Detroit Symphony Orchestra. At the beginning of the American Romanian Festival, Coriolan Gârboni, the manager of the 'Banatul' Philharmonic in Timisoara, spoke about the programme of this year's edition and also about an original project entitled Hot Air.


How was the American-Romanian Festival project born?

The American Romanian Festival is at its third edition this year. The project - which takes place in Timisoara every autumn, at the beginning of November - was initiated in 2005 by Marian Tanau, a violinist from Timisoara who now lives in the United States. Considering that this year we will mark the twentieth anniversary of the December Revolution in Timisoara, we have initiated an original project entitled Hot Air. Within this project, a giant inflatable 'head' of Lenin's will be exhibited in the Union Square in the city, for a week.


What are the events included in this edition's programme?

Master classes, music workshops and conferences held by soloists from the United States. Of course, admission at these events is free of charge for students. We shall have chamber recitals - of trios and sonatas, then one of quartets for piano - and also a symphonic concert given by the 'Banatul' Philharmonic Orchestra and Chorus in Timisoara conducted by Emily Freeman Brown. The concert will bring Romanian soloists to the public (cellist Alexandra Gutu, pianist Sorin Dogariu, violinist Gabriel Popa and the duo of pianists Manuela Iana and Dragos Mihailescu) and its programme will include première works. The American Romanian Festival ends on November 7, 2009 with a chamber music recital housed by the 'Béla Bartók' Museum in Sânnicolau-Mare.
Alexandra Cebuc
Translated by Andrea Niculae and Silvia Bratu
MA students, MTTLC, Bucharest University