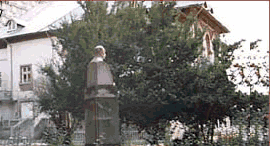 Interview with Valentin Gheorghita, manager of The Athenaeum from Focsani
Monday, 14 September 2009 , ora 12.19

Rinascimento Musici represents 'the rebirth' of a project initiated in 2008 to promote classical music. We found out more about this initiative, but also about the first concert performed within this series of concerts by the members of the Unirea Chamber Orchestra, from Valentin Gheorghita, the manager of Maior Gheorghe Pastia Popular Athenaeum.


What do you want to achieve by means of the cultural project Rinascimento musici, which has now reached the second episode?

First, we want to 'restore' the public of music lovers from the period in which Focsani used to have its own philharmonic. Our main target is, first of all, the young public, such as high school students, college students, but not only; we are trying to bring classical music to their attention and, in fact, to re-establish a chamber band.


When did this series of concerts begin and how will it continue?

The Rinascimento Musici project began in 2008 with a series of chamber-concerts where we invited great names of Romanian instrumental music. This year, the project is entitled Rinascimento Musici- seconda volta. We considered it was a good opportunity to establish the Focsani Unirea Chamber Orchestra, a band that we want to institutionalize, to make permanent.


What do you think about the fact that the programme named An A- concert included both famous titles, as well as works that have rarely been performed, such as Symphony No.10 by Mendelssohn and Fraters by Arvo Pärt? What is the 'role' of these works in a project such as Rinascimento Musici?

We chose the name An A- concert because we wanted to create a connection between this musical evening and the opening of the 2009-2010 school year on September 14th. We hope to receive this mark from the young audience, from teachers, and from all those who will come to the concert. The repertoire was chosen by conductor Vincent Gruger, who selected famous scores by Antonio Vivaldi, Johannes Brahms, Dimitri Sostakovici and Astor Piazzolla, but also less known works by Felix Mendelssohn and Arvo Pärt. We hope it will be a pleasant surprise for everyone.


How do you rate the importance of such an initiative in the Romanian musical landscape?

Focsani had an important musical tradition because of the Philharmonic established in this city before those in Ploiesti and Bacau; I think that everything that has been happening here for the past few years is a necessary and reasonable step, an initiative meant to complete the interests in classical music for young instrumentalists who deserve a place in the orchestral ensembles in our country, which should be supported, more arduously promoted and even, little by little, entered in the agenda of some important festivals, such as the George Enescu International Festival.
Alexandra Cebuc
Translated by Tugui Daniela
MA Student, MTTLC, Bucharest University