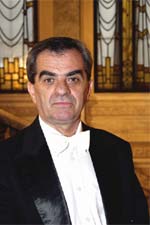 Interview with conductor Voicu Enachescu
Monday, 12 October 2009 , ora 12.30

The National Choral Association of Romania organizes between October 12th 2009 and February 22nd 2010 the Paul Constantinescu Permanent Choral Season where choral groups from Bucharest and all over the country will participate. Referring to this first concert, Voicu Enachescu, president of the association, said:
After several discussions with choral music lovers, especially from Bucharest, the National Choral Association from Romania organizes this year,for the first time, between October 12th 2009 and February 22nd 2010, the Permanent Choral Music Season.

The concerts will be held every Monday in various locations, including cult places, based on the repertoire of the participant groups. The opening concert will take place at the Cantacuzino Palace Hall due to the support provided by the Society of Romanian Composers and Musicians. In the second week, the concert will be held at the George Enescu Concert Hall from the Bucharest National University of Music. Until the end of these events, besides the concert halls we have mentioned, we will also attend the Saint Elefterie Church and Saint Ilie Gorgani Church for the performances of groups whose repertoirs include religious works.
Andreea Chiselev
Translated by Daniela Roxana Tugui and Alina-Olimpia Miron
MA Students, MTTLC, Bucharest University