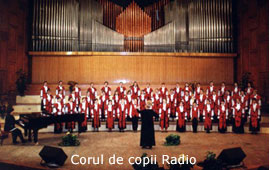 Interview with Voicu Popescu, conductor of The Radio Children's Choir
Saturday, 12 December 2009 , ora 12.51

A Cheerful Pioneer's Hello! from The Radio Children's Choir, twenty years after the fall of communism in Romania


The Radio Children's Choir, coordinated by conductor Voicu Popescu, has prepared a new musical surprise that is neither a concert, neither a show, to commemorate the two decades that have passed since the fall of communism in Romania. The musical programme, entitled A Cheerful Pioneer's Hello! and taking place at the "Mihail Jora" Studio, on December 20th included songs reminding of the communist ideology, but also musical creations based on the lyrics of our little artists. On this occasion, Voicu Popescu, the conductor of The Radio Children's Choir, revealed some of the key aspects of this unique project.


Twenty years have passed since the fall of communism in Romania. Is this Cheerfull Pioneer's Hellowelcomed at the moment?

It definitely is, because this Cheerful Pioneer's Hello represents, whether we like it or not, the childhood of some of us and, for a man who knows his values, who appreciates them and who cannot deny them, it is absolutely compulsory to assume this past. We began from the idea that, at that time, children knew how to sing - and they sang very well, they had a specific repertoire- for which the composers had a great enthusiasm. Nowadays, we do not see this anymore. And it is a great pity, a fact that it is felt in the children's sensibility towards good music- although this sensibility decreases as they are taken by the subcultural musical trends; that is why, this comeback of that time's repertoire signals us that, although the texts were stupid, the music was good and people sang with pleasure.


I have chosen, as a way of developing this show, this counterpoint between the songs of the communist ideology and the real world of children represented by children's games and poetry written by them at that time, so everything is taken from those years. It can be seen that, at that time there was given special attention to lyrics, children knew how to write in a sensitive way, they knew how to play, they had their own folklore which should not be replaced by other nations' folklore: before anything else, one should know his/her tradition.

This alternation between the songs of the communist ideology and the children's profound life full of ingenuity will make man realize that even in the communist period life was lived at its fullest, even if a certain behavior was imposed to us. We rapidly found the team that contributed to the making of this project: the pianist Camelia Chitibea, my right hand, and Ioan Dobrinescu, an excellent musician who has re-orchestrated all the musical works presented in the programme and who has succeeded to preserve , in an elegant way, the wit of this songs. This project also includes Valentina Leonte, the one who discovered in the archives of the Romanian Radiobroadcasting those beautiful play moments of children, the poetry they wrote- which truly has a literary value, and also the young actors Sorina Stefanescu and Serban Gomoi who have got involved with great enthusiasm in this project.

I have to thank Radio Romania for all its support (both logistic and moral) that it has given me in what I think it is a courageous initiative, because only now I have realized how many frustrations it has created for those people who are still afraid of something in their past.


Music and image mix once again in the Children's Radio Choir; will you continue the series of syncretic shows?

Since 2005, The Children's Radio Choir came in front of its audience with one or two projects each year. In 2009, it has been a real pleasure for us to present a baroque opera in a true to life representation of the gestures of King Ludovic XIV, interpreted in the most authentic style of that time's music. We will have other projects - I will not give all the details- but, it is a fact that at the end of 2010 we will once again have an interesting production at the Radio Hall and I am sure it will be something surprising.
Andra Ivanescu
Translated by Andra Stroe
MA Student, MTTLC, Bucharest University