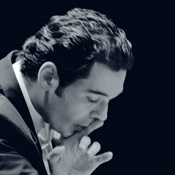 The George Enescu Festival - Interview with conductor Tugan Sokiev
Tuesday, 22 September 2009 , ora 14.50

From the series Great orchestras of the world
September 22nd and 23rd, 19:30, the Great Palace Hall


Since it is your first time in our country, may I ask you what expectations do you hold about the two concerts you are to perform?

Indeed, it is my first performance in Romania, in Bucharest. Together with the orchestra we are eagerly looking forward to the two concerts in this fantastic festival... I am sure that we will receive the very best impressions that this is going to be a thrilling experience. There are so many interesting things, so many fantastic artists coming to the Enescu Festival! So I am certain that we will also contribute to this rich event, which has now become an important tradition.


Now let us talk about the performance on September 22nd, with music from Brahms and Hector Berlioz. How would you present the structure of the programme? Describe, if you please, each work as part of the intimate configuration of the programme, considering its inner scenario.

First of all, Concerto No. 2 for Piano by Johannes Brahms means something special in the repertoire of each piano player, especially when it comes to Nelson Freire, the main performer of the night. It is a major work, a really difficult and unique one, meaning that it is not just the type of piano concerto in which the piano is backed up by the orchestra, but the whole orchestration plays a major part in creating the atmosphere of this work; the orchestra completes the soloist's performance. For me, this is like a huge symphony for piano and orchestra. It truly has greatness, involving a lot of virtuosity, and is lyrical and hugely dramatic at certain moments... It has an immense expressiveness.
Berlioz's Symphonie fantastique is, as well, very special for my repertoire as a conductor of the Capitole Theatre Orchestra in Toulouse. Firstly because this is by a French composer, French music, yet it is still rooted in the classical Austro-German repertoire. It creates a connection- the path from classical music to romantic music. Now, from the point of view of the language of the orchestra, of how an orchestra is used, Berlioz proves he can make fantastic use of the orchestra, in the way he uses form, composition, dramatic development throughout the whole symphony - which has five movements! - a programme-symphony as you know... With this symphony, he triggered what later became the evolution of romanticism in music. It is a very important symphony!


On September 22nd and 23rd you will be collaborating with renowned soloists: piano player Nelson Freire and violinist Renaud CapuÁon. This is why I'm asking you: what is, from your perspective, the relationship between the conductor, the soloist and the orchestra? This time, the musical works are by Brahms and Saint-SaŽns ...

The connection, the relationship, between them is very important, because the soloist, first of all, has his own vision of the performance of the concert(?); the conductor is there to help him enact that vision and the two of them, together, have to present, in the end, what is written for that part, what the composer imagined...So, this soloist-conductor-orchestra triangle is very important, and when it works excellently, when the three elements feel and understand each other, the result can be fantastic.


At the last George Enescu International Festival we had the chance to listen to Nelson Freire; now it is Renaud CapuÁon who has been invited for the event. How would you describe the artistic profile of each musician?

Firstly, this is about two different generations. Nelson Freire is a remarkable artist, a fantastic piano player, a great musician who always contributes with his whole being and life to the music he performs. At the same time, however, he preserves his modesty- an incredibly agreeable and kind person. His way of performing is moving, impressive... Each time I have had the opportunity to perform with Nelson Freire, the artistic experiences that has resulted has been an unbelievable one.
With Renaud CapuÁon, I've been collaborating for a long time. He is a great friend of the Capitole Theatre Orchestra in Toulouse; he used to perform with us constantly. He is a young violin player - I may call him that (we are more or less the same age)- extremely in demand at present everywhere. He is very popular; he has a beautiful sound, and he plays extraordinarily, really getting involved in his performance. It is a pleasure to be on stage with him.


As it is natural, the Russian romantic repertoire is very familiar to you. Perhaps you also know about Russian folklore. So how would you comment on the traditional Romanian elements in the Third Suite by George Enescu? How do you feel them, as an East European musician? What is your view about them?

I think that not only in the case of Russian composers or Enescu, but in general, each composer has found his inspiration in tradition, in folk songs. They are the root, the origin, with Mozart, Haydn, Beethoven, with French composers as well... Tchaikovsky, Rimsky-Korsakov, Borodin, Enescu, Bartok- they all use musical folklore, something rising from within the people - the mentality, the tradition and the unique characteristics of the musical languages specific to these nations... So I believe that Enescu identifies himself most strongly with the Romanian musical tradition. Actually, a lot of composers have been inspired by Romanian songs and music.


Have you ever conducted other of Enescu's work, or have you only studied them? Are you familiar with the symphonies or with his suites, for instance?

Yes, I am also familiar with other works. With Oedipe, which has also been performed at the Toulouse, with the Capitol Theatre Orchestra. His music is becoming increasingly familiar and popular in the whole of Europe, which pleases me because his symphonies, as well as his suites and chamber works, are wonderful!


What is, in your opinion, Enescu's place in the context of 20th-century music? And which of the characteristics of his style do you appreciate the most?

I think that Enescu's musical particularity is something related to his Romanian roots, something out of which the composer made an artistic European work. He managed to combine the Romanian musical tradition with European composing tradition, yet enriching everything by one level, one superior level, of his inner universe, of his imagination, a level which can be defined in a complex way, with many elements- either psychological or related to the world of popular songs, yet artistically performed. I find Enescu's music very theatrical and imaginative. It is most interesting to discover Enescu's music!


I have asked you to describe the programme for the performance on September 22nd... On September 23rd you will conduct Enescu's Third Suite and two well known works - Concerto No. 3 for Violin, by Camille Saint- SaŽns and the famous ballet Le Sacre du Printemps by Igor Stravinsky. How would you comment on this program?

I think we are talking about a very interesting combination because we have Enescu, Saint-SaŽns and Stravinsky. Therefore, there is firstly Enescu, whose inspiration comes from the European composing tradition- from the French tradition, for instance - which takes us to Saint-SaŽns, a French composer who created a lot of excellent and remarkable music. Then we get to Stravinsky, who is also connected to the French musical tradition, and who lived in France for a long time, performing and having his works presented there as premiŤres...So, we already have a connection from one standpoint - a historical connection... Perhaps somehow, unconsciously, they are related through their musical language as well. I think there is a powerful connection between them!


Talking about the concerts of the Capitole Theatre Orchestra in Toulouse - in one of your interviews you stated that you very much appreciate the particular sound of the whole group, the warmth and the richness of the string instruments, the amazing virtuosity and the remarkable individual skill of the players. Indeed, the particular sound of this orchestra is impressive because of its special quality. What is the secret, the explanation for this sound, from your point of view?

I believe that the particular sound which this orchestra can manage is particularly rich when it is necessary - when performing something like Stravinsky (Le Sacre du Printemps), Prokofiev's or Brahms' symphonies. But the orchestra members can give an incredibly rich, dark and powerful sound when trying something like Debussy, Ravel or Saint-SaŽns - which is a different style. The members are capable of quickly adapting to each genre. I very much admire their versatility. I know I'm repeating myself, but I have to - as individuals, the members of the Capitole Theatre Orchestra in Toulouse are fantastic musicians. They have imagination and very good intuition, musical intuition - which is very important.


What are your main targets as artistic director of the Capitole Theatre Orchestra in Toulouse - both as far as your personal musical evolution is concerned and the evolution of this team?

My aim and ambition is to develop further the above-mentioned skills of the team, to vary its repertoire and to try and make the audience enjoy all the qualities of this orchestra, not only the audience in Toulouse, or in France, but also outside France - for instance the audience at this fantastic festival we've come to, in Romania.


I'm sure that our audience is interested in knowing how the actual work with Capitole Theatre Orchestra in Toulouse is going. How is this collaboration unfolding?

We usually have rehearsals for three or four days, for a concert. We rehearse once or twice a particular programme that we perform for different audiences. We have the usual concerts in the season programme, but we also perform many for the younger generation, for school children, students, because I believe it is very important that today we form the audience for tomorrow.


Have you ever worked with a Romanian musician?

I haven't had the chance so far. I have conducted orchestras where there were numerous Romanian musicians playing. At present, in the Capitole Theatre Orchestra there are two musicians from your country, both violinists. One has been playing there for over twenty years. There is another one, younger, who has just joined the orchestra as main second violin. Everywhere you go, there are a lot of Romanian musicians- the Romanian violin school is renowned for the quality of its courses.


How do you imagine the ideal symphonic team and how would you describe a perfect collaboration with it?

I think that the ideal team and the perfect collaboration exists when both the conductor and the orchestra have the same musical idea, when both enjoy working together, when they have the same inspiration and enthusiasm so that when performing they have a very special thing to share with the public, and they are both eager to perform it.


And the last question: what are you plans until the end of the year and which of them do you consider the most important ones?

We have a lot of plans until the end of the year; we'll be doing a big tour in Asia - we'll go to China and Japan! We have a few plans for recording, as well as other activities, so the life of the orchestra is a busy one, very active and productive at the same time.
Stefan Costache
Translated by Martin Potter and SÓnziana Mihalache
MA Students, MTTLC, Bucharest University