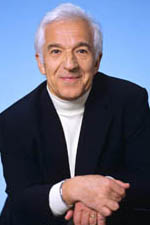 The George Enescu Festival - interview with conductor Vladimir Ashkenazy
Tuesday, 15 September 2009 , ora 15.22

The series Grand Orchestras of the World
September 15th and September 16th, 19:30, The Grand Palace Hall

Maestro Vladimir Ashkenazy, thirty years ago, when you started conducting, was it a premeditated act, or mere coincidence?

When I was a child, I was more interested in orchestras than in playing the piano. When I had the chance to conduct, I did not do it because of a previously established plan, simply for my own pleasure. However, I was successful and I started conducting wonderful orchestras, some of them absolutely extraordinary. I did not plan anything, it just happened.


As a soloist, you have worked with very important conductors. From which of them did you learn anything special?I know you especially appreciate Zubin Mehta and André Previn.

When you work with great conductors, this does not mean that you will be able to use what you see in them in your own work with orchestras. You must find your own expression and your own way of making yourself understood. The fact that you have worked with great conductors does not help. You practically cannot even watch them, because you have to play the piano. So, this does not help you a lot. You must find your own way. I have never had a conducting teacher tell me what to do. I had to discover everything by myself.


You left Russia in the well-known political context of the second half of the previous century, but after 1989 you returned to visit your native country, and from a musical point of view, it can be said that you never left, because you continued to promote the musical values of Russia. How do feel about these returns? Is it nostalgia or gratitude for the years of your training, or sorrow?

I went back to Russia because it is my country. I was born there, I went to school and to the Conservatory there, and when I was given the opportunity to return, I did not miss it. I still have friends in Russia. I owe a lot to my country in relation to my musical education, and to the extraordinary devotion of some musicians who have helped me to become a good musician as well. I have taken advantage of every chance to return and perform with local orchestras. I feel that I must return as often as possible from a human point of view. Of course, first of all, the country has changed a lot, in a very dramatic way. The reconstruction of the society still has a long way to go, because passing from communism to a new order of things takes many generations. We must not expect rapid changes, but, so far, there have been some extraordinary accomplishments and I hope that Russia will keep on following this evolving path, and we will see what happens next. I am glad that I can go back and that I can give my country at least a bit of what it has given me. The professors at the Conservatory were so good that I want to repay them for what they have taught me.


I understand you met Dmitri Shostakovich three times. What was your impression of him? What was Shostakovich like?

As you know, Shostakovich was severely oppressed by the system. Every time I met him, I found him terribly frightened, but he was a very warm and extremely talented man. A genius. Our meetings were short. I cannot say they were substantial. Once, when I was a student at the Conservatory, I performed his Trio, with some of my friends. He was very amiable, very nice, very friendly, but he did not tell us much. The second time I met him he was, again, very quiet. He was unusually shy, but one felt that underneath that mask, he had a lot to offer. I am glad I was able to meet him, that I could shake his hand and be around him.


Do you think that those countries which did not suffer the communist system can understand Shostakovich's Symphony No.8?

Music has its own effect on the public. You do not have to know all the details. If you listen to the music, even if you do not know what the Soviet Union and the communist authorities or oppression meant, you will still feel the incredible drama, the tragedy, the dynamics of the Symphony. And this is very important. If you also know the history of the piece, so much the better, but what you feel is the substance of the music. You feel it is something horrible, oppressive. You do not know exactly what it is about if you have not lived in the Soviet Union, but it does not matter. All that matters is what the music offers, what you feel. That is important. And then, when you find out about the conditions under which the Symphony was composed, you can say: yes, I felt it all the time, I did not know the facts, but I understand what the music was trying to convey!


Can Symphony No. 8 be interpreted in some other way than as a war symphony?

The meaning of music is not a simple business. You cannot apply an actual meaning to each sentence and each phrase, but there are certain effects which the music has over the public and, without going into much detail, I can say with extreme certainty that if you listen to the Appassionata by Beethoven, a symphony by Sibelius or Symphony No. 8 by Shostakovich, you may not have an actual picture of the meaning of the music, but you do have a clear image of what the composer endeavoured to convey to you- you feel the emotional impact. That is, of course, if you have an open enough mind and the intellectual capacity to receive the signal. If the answer is positive, this means that your spiritual level is very high and you will certainly receive the message. You may not understand anything concrete, but you will understand and feel from an emotional and intellectual point of view. This is important as well. Music does not mean A, B, C or 1, 2, 3... But it offers concrete elements regarding what it intends to convey and it manages to convince you, because we are dealing with a great composer.


In the same concert featuring Symphony No. 8 by Shostakovich, you will also conduct the Piano Concerto by Robert Schumann. How do you feel about the music of this Romantic composer?

I love Schumann. He is a fantastic composer, especially in his first works for piano and in the lieder. He is absolutely fabulous.


What type of relation do you like to establish between the conductor-pianist Vladimir Ashkenazy and the soloist-pianist of a concert?

I will be a professional. I will try to respect what the soloist wants. This is my position in this kind of situation. Quite simple.


You are a laureate (honorary) conductor of the Philharmonia Orchestra. Do you remember your first meeting with this ensemble?

It happened a long time ago, in 1978 or 1979. Of course, I had performed with this orchestra before, as soloist. For example, under the baton of Otto Klemper we performed Concerto No. 2 by Brahms. At my first meeting with them I was not a very good conductor. I was just starting out, but they were very kind to me; they tried to play as well as possible and it was wonderful. They asked me to come back, because they said they liked what I was doing. They were confident that I would improve and I did. I gladly returned to conduct them. It is an extraordinary orchestra.


Last year, you held a concert in Romania along with the European Union Youth Orchestra. On that occasion, you also conducted the Romanian Rhapsody No. 1 by George Enescu.

Yes, indeed. A lovely piece.


Years ago, as a pianist, along with the violinist Ida Haendel, one of Enescu's students, you recorded the Third Sonata "In the Popular Romanian Style".

Yes, the third sonata. Extraordinary.


This time, you will perform the Concert Symphony for 'Cello and Orchestra. What is your opinion regarding the music of George Enescu?

He was a very talented composer. I very much enjoyed both of his works for orchestra which you mentioned. A very open composer without any complexes. I like him very much.


Have you ever met the cellist David Geringas on a concert podium?

Yes, I work very well with him.


Did you make up the programme of this concert based on the connections of Enescu with French music?

I do not recall the exact criteria, but Debussy was an extremely talented composer. I have always been overwhelmed by his music. I have performed many of his works for the piano and I have conducted almost everything that he wrote for the symphonic orchestra. He was a fantastic man. I do not like to talk about the great composers. I feel too small to describe them. Words do not mean very much - because music is above words.
Monica Isacescu
Translated by Martin Potter and Elena Gheorghe
MA Students, MTTLC, Bucharest University