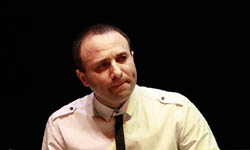 The George Enescu Festival - Interview with pianist Florin Raducanu
Tuesday, 22 September 2009 , ora 15.48

From the series Classical themes in modern works
September 22nd, 19:30, the Small Palace Hall

I met Florin Raducanu when he was a student at the National Music University in Bucharest, when he was studying in the jazz group, headed and guided by piano player and composer Mircea Tiberian. Since then, until now, he has been making amazing progress, not only as a performer (pianist-improviser) but also as a jazz teacher and composer. Although young (born in 1973), Florin Raducanu did not stop his artistic activity, but also dedicated a great part of his time to his students at the Music High School in Bucharest, whose musical activity he stimulated through jazz and improvisation. Through his performances, Florin demonstrated to us the bridges between jazz and classical music. So his presence at the George Enescu Festival this year is well-motivated.

'I studied classical music until I entered the Music University -I started with classical piano studies, and the path towards jazz came naturally, meaning that at one point I felt the need of more than just singing and performing a musical work written by somebody else. I was trying to find my own vision of music. The moment I met Mircea Tiberian at the Music University, I found a helping hand from him.
Then individual study followed, because every one has to follow his or her own way; a condition of success is being honest and knowing what you want. But I also think that we have spiritual guides who lead us to where we have to go.
What is important, what is attractive about jazz? It is the creativity part, and even that of spiritually finding oneself, in a way. Improvisation lays the foundation for any jazz performer. But first, you have to acquire discernment, which you gets through a solid academic education.'
Florin Raducanu


What type of music has influenced you throughout your evolution as a jazz piano player?

Keith Jarrett influenced me a lot in the beginning and he continues to be the jazz pianist who most rapidly reaches my inner core as an artist. Then comes Herbie Hancock, with his vision of music - I'm referring to fusion, classical jazz.


You got very close to classical works and tried to transform them, and prepare them in a certain form for jazz. Have you had a model in a jazz musician who has pursued this path?

While I was doing my PhD studies I was talking about this and I really found many jazz musicians to have approached the 'classical-jazz' fusion phenomenon, but this detail has rarely been emphasized in their musical biography. I'm thinking about J. J. Johnson, Keith Jarret, Herbie Hancock or Bill Evans - a pianist who has brought that 'voicing' type of vision, taken over from choral harmony. Nearly all great jazz performers who are also composers have started from this classical education and at a certain moment they return to the great cultural music.


What do you consider to be your greatest achievement in jazz?

The starting point of the 'third stream' project - symphonic jazz with the Sibiu Philharmonics in 2006 and its continuation, as can be seen, in 2009, at the George Enescu Festival.

The project is represented by the work 'Jazz Ecumenica', made up of seven segments. It combines symphonic jazz parts with influences from impressionistic music and 'folk' parts from several areas of the world. However, improvisation is the key word in this musical project. The group to perform the works I have written comprises a string orchestra, a jazz combo and a South American percussion band.
Daniela Nicolae
Translated by Martin Potter and Sînziana Mihalache
MA Students, MTTLC, Bucharest University