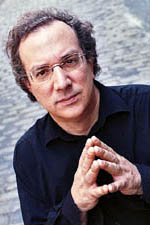 The George Enescu Festival - Interview with pianist Uri Caine
Monday, 21 September 2009 , ora 16.00

From the series Classic themes in modern musical arrangements
Monday, September 21st, 19:30, the Small Palace Hall
I have read about your activity and I was impressed by the surprising combination of jazz improvisation and classical music that you manage. Tell me about how you have got here.
Ever since childhood, I've wanted to be a jazz pianist. At about 12, I already knew to play the piano; it was then that I met a teacher from France, in Philadelphia, where I was living, who encouraged me to study classical music, even if only to improve my instrumental technique. From then on, I began practicing various music genres, but I was especially interested in jazz. I used to listen to a lot of classical music, as well as rock, funk and electronic. Starting with this interest in several genres, I discovered a way of improvising starting from classical music. Beginning with Mahler's or Goldberg's variations, I wanted to offer musicians who improvise, and who love classical music at the same time, a new challenge, a means of improvising on new structures.


Have you found, in the history of music, a genre closer to jazz?

For most musicians, baroque is the closest to jazz because of the "walking bass", a melodic-harmonic core, which was used to improvise, just like in jazz. Yet, I believe that the real idea of jazz is to take an already existing theme - it could be a pop or folk song or another musical theme - and develop and modify it through improvisation. While I was young, modern music (Bartok, Stravinsky, Schoenberg) was a source of inspiration to me, but I was also later inspired by Beethoven, Chopin, Schumann and Wagner. I was interested in discovering the structure of the works of these composers.


What structure are you referring to - only the harmonic one or to the entire structure of the songs: harmony, melody, and rhythm?

Naturally, to all of them, but I was particularly interested in musical forms and the way in which the works had been adapted for orchestra. I strived to understand what had happened in the history of music, the influences and the sequence of events. I was interested in various aspects of music, and I still am, just like many other musicians, because this is a area where one can learn continuously. The history of music is so rich, and it is so lovely to compose and perform music, that I could not do anything else.
Could you name the composer who has inspired you the most in your jazz adaptations?
I could not limit myself to only one of them. For instance, I am interested in finding out how Stravinsky covered different musical genres and transformed them. As I evolved from a musical viewpoint, I became more interested in jazz musicians like Miles Davis, John Coltrane, Herbie Hancock, and McCoy Tyner.


I know you played, some very many years ago, in a jazz festival in Bucharest.


Yes, that's right.


What memories do you have from that period?

Well, I came to Romania after the fall of Ceausescu. Back then, there were very interesting times, which I experienced with the greatest emotion, and I think that many were eagerly expecting a change in Romanian society. I did not come with the group I lead, but I performed with Sam River, the saxophone player's band. Definitely it was an interesting experience and I'm looking forward to coming back to Romania, to perform.
Daniela Nicolae
Translated by Martin Potter and Sînziana Mihalache
MA Students, MTTLC, Bucharest University
---