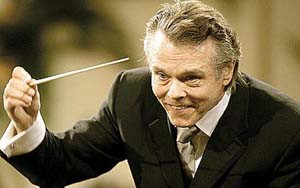 The George Enescu Festival - interview with conductor Mariss Jansons
Saturday, 19 September 2009 , ora 16.03

Great orchestras around the World Series
September 19th, 20th and 24th, Great Palace Hall


You are coming to Bucharest with one of the orchestras you have been conducting for a long time, Concertgebouw from Amsterdam. You have collaborated with the Bavarian Broadcasting Orchestra, with the London Philharmonic; you have conducted the Vienna Philharmonic Orchestra in the famous New Year's Concert. You like working with young musicians, too. How do you manage to shift from top orchestras to artists with little experience?


I think that it is our job to help young musicians. I have taught at Saint Petersburg for thirty years, I myself was very young back then; I was still a student when I started conducting the youth orchestra in the same city. At the conservatoire I have worked with orchestras made up of students, too, so I am experienced in working with young people. Now, when I am conducting these brilliant ensembles you have mentioned, I think it is even more important that I should deal with the young, in order to offer them some of the knowledge I have acquired. It is extremely interesting to do this, and the young people are very excited-as is the case with the Gustav Mahler Youth Orchestra. Thus, I think it is our duty to offer something to the young generation of musicians, but I must add that we work on a professional level: they react very well to our demands, we enjoy working with them. They are not only well prepared, but also very passionate about their work, the atmosphere is always great and therefore we have high quality results.



You have recorded a lot of Russian music, including Sostakovici, for which you were awarded honorary prizes. In Bucharest, you are conducting a Russian work by Sostakovici. You seem to like this composer a lot!


Oh, yes, I like him a lot, and I have liked him for a very long time! I love Sostakovici, I think he is a genius. I have conducted a lot of his works and I always feel we have a connection: I feel his moods in some works, I see their emotional content immediately, I know what he wants to convey at once, what he wants to say, what he wants to express by a certain sentence, a certain work. He is indeed a special composer for me.



I found it very interesting that the first audition of Concerto no. 1 for cello by Dmitri Sostakovici was conducted by Evgheni Mravinski, the conductor who has chosen your father as his assistant at the Sankt Petersburg Philharmonic. Have you ever been told about this wonderful moment?


Of course I was aware of this story when Mravinski invited my father to come to Sankt Petersburg in 1948, after he had been awarded a prize at a competition. He started working with the maestro, then we all moved in the city, in 1956, and I became Mravinski's assistant, so we have a long history with the maestro!


In this case, you could say that you, your father, Evgheni Mravinski and Dmitri Sostakovici are part of a great family! This might be the reason why you like his music so much!



Especially because Mravinski himself has conducted many of Sostakovici's works, he was considered to be the best interpreter of his work! Of course that I have listened to many of his works conducted by Mravinski, so, I can state that it is thanks to him that I got so close to Sostakovici's music.


Loved and hated, a genius and an impostor-Beethoven's Eroica is his masterpiece! No, it is not, it is only a failed attempt of a composer who was trying to be original, but he failed. That is what they used to say at the time. We know the history of the name under which Symphony no. 3 is known, we know about Beethoven's disappointment regarding Napoleon Bonaparte, we also know that the work is, no matter how we call it-no. 3 or Eroica-one of the milestones on the road of the history of music. What does this work mean for you?


In this period of my life, I am very interested in Beethoven's music, I conduct much of it; at the moment Beethoven is my favourite composer. Naturally, I love Symphony no. 3 the most: a strong, energetic work, and, at the same time, an anti-war protest. Beethoven said: 'we do not want tyranny, we do not want war '- you know the situation with Bonaparte. It is in fact a heroic reaction to all these things, to the facts he had in mind-he protests, he stirs up, he says no. This is what happens from the point of view of the 'subjective' content. From a musical point of view, I think that Beethoven's Eroica is one of the best works in the symphonic repertoire.


You said that 'at the moment, Beethoven is my favourite composer'. What made you come to the conclusion 'Now, I like this author in particular, I am conducting his music'?


This is how things happen: you conduct a great number of composers, a very large repertoire, but at a certain point, you feel-without imposing it on yourself, without choosing or wanting-you feel that a particular composer is special for you. I remember that, for a while, I was interested in and fascinated by Richard Strauss, then by Gustav Mahler, then by some other composer. If now I like a certain musician or a certain work, this does not mean that I deny or ignore the rest, not in the least. Yes, I do love Beethoven; in a year or two, who knows? It is so unpredictable because it depends on your inner world and on your relationship with the music.


You conduct Russian, French, German, English music; classical, romantic, modern music-thus you conduct many and various types of music!


My principle as principal conductor is that my orchestras and I should share as much music as possible, a repertoire as diverse as possible. I have always done it, because I feel that this type of status imposes on you a great variety of music-works, composers, musical styles-and that you do not have to limit yourself to only one direction. This is what I believe, but I know that there are many conductors who specialize in only one composer or style. Especially at the beginning of your 'relationship' with an orchestra, I think you should deal with a repertoire as various as possible; then, later, much later, you can start specializing in something and you can say: 'This season I will focus on classical music or music of the late romantics'. But I generally sympathize with large repertories.


May I ask why you sympathize with large repertories? First, from a general point of view, and then, from your point of view?


Because, when you are principal conductor, you must know your orchestra very, very well; and this happens only if you hear it perform a great number of works. On the other hand, because you are its principal conductor you must offer your orchestra ideas and as much novelty as possible. Then, when we have become good friends, we have worked a lot together and we know each other, we can think of what we did best, of what best fits the orchestra, of what is the best that I can offer. But it is only possible when we all have come a long way through a lot of music.


When you conduct, what do you want the audience to hear from that particular work? What do you want people to bear in mind after listening to you?



I want them to feel that they have been in paradise for two hours. I want people to have that special feeling of 'it was marvellous, so thrilling, so inspiring, I am astonished, and this evening has ravished me'. It is somehow the artist's duty, the conductor's duty to give them the possibility to feel this. The audience should not be the only one that goes home saying 'Oh, what a great orchestra, what a good technique, what a sound' - that is important, too, of course, but it is not enough. The audience must have a thrilling experience and feel that they have been in heaven. Only then am I able to say: 'Yes, I think we have held a great concert, a concert as it is supposed to be'.
Maria Monica Bojin
Translated by Liliana Stefan
MA Student, MTTLC, Bucharest University