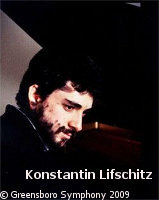 The George Enescu Festival - Pianist Konstantin Lifschitz
Monday, 14 September 2009 , ora 16.07

The Chamber Concerts
series
September 14th, 17:00., the Romanian Athenaeum
It is not the first time you came to Romania. What do you think of the Romanian public?
I really like the Romanian public and I am very pleased to perform in this country.


How did you decide to perform in this year's George Enescu International Festival?

I was invited by the organizers, together with my colleague, Eugene Ugorski. I accepted the proposal immediately, because I've wanted to perform at this festival for a long time.


Can you describe your collaboration with violinist Eugene Ugorski?

It is a very lucrative collaboration, which began about one year ago, when we performed in Germany, at a festival in Mecklenburg. We have kept in touch since then. We have recently recorded a DVD together - at the International Festival in Miami - which will be launched soon. It will comprise a repertoire that is different from what I used to perform in Romania. Another important event which will bring us together, Eugene Ugorski and me, will take place in January 2010. I will be conducting a Swiss orchestra, while my colleague will be performing the soloist score of Beethoven's Violinkonzert. I can hardly wait for this event.


How did you decide to perform together at the George Enescu Festival?

At first, Eugene received the invitation and, due to the fact that he seems to want to perform with me as much as possible, he asked me immediately if I was available. I had nothing scheduled for that period, so we both accepted the invitation.


Did you establish the performance schedule for the recital together?

There are several series within the Enescu Festival and we will perform in the Enescu and his Contemporaries series. We chose works signed by French and Austrian composers, whom Enescu knew. George Enescu spent a lot of time in France, so one could reckon that he was French, to a certain extent. We will also perform works signed by Chausson, Ravel and Prokofiev, a composer who spent a lot of time in France, who was friends with Enescu and who had great admiration for his work. Moreover, Chausson was a member of Jules Massenet's entourage. Jules Massenet was Enescu's professor of composition in Paris. César Frank was in the same circle. His sonata was an important part of the Romanian composer's repertory.


What do you think about Enescu's music? Have you performed other works of his?

I've been a fan of Enescu's music for a long time. I first came in contact with his works when Gidon Kremer suggested I play the Quintette pour piano at a festival in Austria. I enjoyed the quintet very much. It is different from Sonate pour piano et violon no. 1, which I used to perform at the festival. There are interesting harmonies; it is unusual, interesting and original. It used to be one of my favourite quintets and I performed it on several occasions. I was lucky enough to meet Lory Wallfisch, who sponsors an Enescu foundation in Connecticut, America. It is a large foundation in charge of promoting Enescu's music in other states of America as well. The foundation has several honorary members, among which I can mention the late Yehudi Menuhin, former student of Enescu. Lorry Wallfisch sent me the scores for almost all his works, from songs to chamber music. The scores for the Sonate pour piano et violoncelle no. 1, for Sonates No.2 and No.3 pour violon et piano or for the Impressions d'enfance pour violon et piano Suite were also included.

Then I met Patricia Kopacinskaia, a violinist born in the Republic of Moldova and settled in Switzerland. Together we performed a lot of Enescu, especially Sonate "dans le caractère populaire roumain", pour violon et piano no. 3, and the Impressions d'enfance pour violon et piano suite. This was another chapter of my contact with Enescu's music. I also performed Sonate No. 3 pour violon et piano. I didn't manage to perform the first one, but I would really like to be able to do that one day. I performed Sonate No. 3 pour violon et piano in several countries, from Italy to Russia and the United States, shortly, anywhere I had the occasion to perform this gorgeous work.

I also performed Enescu's Octet at the SoNoRo festival, another important event of my life. It meant a lot for me to get to know this work. My dream is to conduct the Octet. I know there is a version for string orchestra, written by Enescu himself. I must have listened to it over two hundred times. On one of my visits in Bucharest, I bought almost all the recordings of his works, performed by important artists. Therefore, Enescu's music plays an essential part in my repertoire and I am delighted to come to Romania for this festival, where we will perform Sonate pour piano et violon No. 1, one of Enescu's youth creations. At that moment, he was still under the influence of Brahms or César Frank. This sonata has a powerful message and I am glad that I will have the occasion to perform it both at the Athenaeum in Bucharest and in Sibiu, Brasov and Busteni. It is a unique opportunity to interact with the Romanian public and we hope to leave the best impression with the performance of this sonata.


Could you name the Romanian musicians you have worked with during your career?

I worked with another important promoter of Enescu's music, Remus Azoitei, who has recorded so far all of Enescu's violin works. Moreover, when I first performed in Bucharest, with the "George Enescu" Philharmonic Orchestra, I worked with conductor Emil Simon, whom I consider to be a very special person. He is very solemn and independent, but he was also close to Celibidache, who played an essential part in my evolution. I can say that Sergiu Celibidache is my favourite of all the conductors. I am also friends with Razvan Popovici, who invited me twice to the SoNoRo festival organized by him in Bucharest, but also to the festival organized in Germany, where several Romanian artists perform. Actually, that's where I also met Remus Azoitei. I cooperated with another important Romanian artist, i.e. Mihaela Ursuleasa. We performed together in a four-hand recital and we are good friends.


Are there other Romanian musicians with whom you would like to collaborate?

I would love to perform with Romanian orchestras, especially with the Iasi or Cluj Philharmonic Orchestra, because I heard so many good things about these orchestras. I would love to have the opportunity to perform in these cities one day. I think that Romanian orchestras have many qualities. They pour their hearts into their performance, which I value greatly.


Where have you met your best public so far?

I do not believe this is a country issue; it is rather an issue of important halls where I perform, where the public is sophisticated, experimented, refined, which is very important for me. A good public does not "consume" anything it is served; one is connected at a very deep level with a good public. I met such public in Eastern countries, such as Romania, Russia, the Czech Republic and Poland. I was also this lucky in Japan, several halls in the United States, as well as in the Western countries. I found such public in cities with a strong musical tradition and where the public has heard several important artists, therefore where there are reference points.


Do other arts, such as poetry or painting, for example, help you build your musical discourse when you perform a work for the first time?

This is the most important for me, even more important than the music itself, because music means more than mere notes. It embeds all these arts, especially plastic arts. I am more and more involved in conducting, because I believe the manner in which one "builds" a work is very important. Poetry plays its essential part as well, due to diction, which is essential for the pianist. One can make the difference between a good pianist and one who is not so good. Arts speak a language one cannot describe in concrete terms, yet they have more to tell emotionally and music takes over this load and transmits it to the public. This is why arts, poetry and literature in general are an important part of my life. I try to read as much as possible. Painting is also important for us, musicians, revealing the concept of colour, because the performance of many musicians is colourless.


Since you mentioned painting, is there any painter who is an inspiration for you in particular?

No, I cannot say that. It's like asking me if a composer has a stronger impression more than another one. Some painters contributed more to my vision of a work. I have to say that you have an impressive collection of paintings at the National Art Museum in Bucharest, of whose beauty not many foreigners are aware, unfortunately. Some of these painters have been a revelation for me.


If you could travel back in time, what musician or composer would you like to work with?

I do not think I should go very far, because the composers who are no longer among us left a heritage of great music, whose message we can decipher. So, we do not necessarily need to travel in time in order to understand the message of Enescu, Bach or Ravel, to name a few. Their music is very clear. This language is clearer and clearer for me and I believe I can send this message. However, I would have liked to meet Sergiu Celibidache or Bruno Walter. There are no international names of their stature at the moment. I would have liked to meet such a person to help me form a vision of music.


You said that the message of Schumann's music impressed you very much. If you met Schumann now, what would you tell him?

It was not just Schumann, but also Schubert, Chopin or many others. In fact, I think I can meet these people in the music they created. Their music is vital for me. Existence outside music would be impossible for me. When I play Schumann, I feel well and I do not believe I would need Schumann himself to tell me what I do right or wrong. I keep to the score as much as possible and this is the best method to stay in touch with them.


Would you rather have lived and performed in a different era? If so, when and why?

I would have liked to live at the beginning of the 20th century, before the Second World War. This was the most interesting era from the musical point of view. There were extraordinary conductors, composers and performers in those times. I feel a little "exiled" from that period, from the temporal point of view.


How do you think classical music is perceived nowadays? Do you think it is fully appreciated?

No, I don't think so. The public is not treated fairly by many performers or by those in charge with organizing musical events. I believe that many members of the public have to listen to music below the standards imposed by them. Agents and organizers are often guilty for this situation. It is true, though, that some of us, musicians, are responsible for this "crisis" of classical music. In fact, many of us treat it as an industry, where career, money and fame come first, while what is really important becomes less important. I feel that some artists abuse music, which is sad.


Is there any pianist who was a role model for your career?

Some pianists helped me defined my vision of this art. I have recently met Aldo Ciccolini, one of the highest figures of world piano playing. Romania also has Dinu Lipatti or Clara Haskil. In fact, each country has given at least one exceptional pianist. Russia had Rachmaninoff or Sviatoslav Richter. Nowadays, some pianists pay more attention to the show and visual effect and less to music itself.


You said you like French baroque music. Do you prefer any composer in particular?

The most important composers are François Couperin and Jean-Baptiste Rameau. The other composers are charming but do not rise to the level of the two I mentioned above. Couperin and Rameau are important for me. They are very different and original.


What is your message for your public?

Our message cannot be expressed in words. We will send it through music. If we could send them a verbal message, we would not have to perform. Music overcomes many barriers. We will try to render as well as possible the existential meaning of music.
Petra Gherasim

Translated by Andreea Banciu and Alina-Olimpia Miron
MA students, MTTLC, Bucharest University
---